RV Covers
Montana Metal RV Carports
If you are looking for ways to care for you RV, then keeping your RV out of the harsh weather should be one of your top priorities. Many RVs develop water damaged, and in most of these cases, it was preventable. Storing or parking your RV under a carport will reduce the deterioration caused by weather.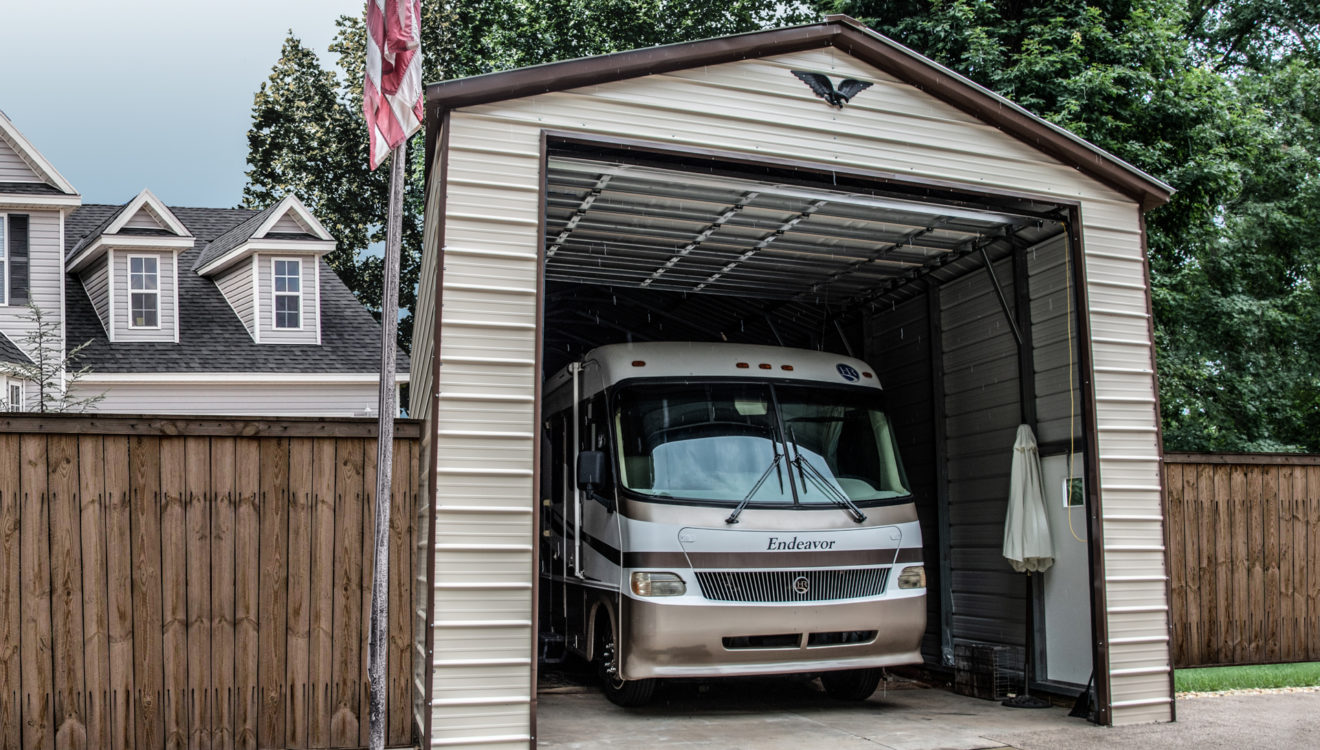 We choose to work with Eagle Carport, because of their superior customer service and high-quality work. Eagle Carport was founded in 1977 and has earned a reputation for quality work and quick delivery.
When you come to the Backyard and Beyond, one of our experienced staff will sit and listen to what you need. We will help you figure out which design is right for you. Once you are happy, we will send the design over to Eagle Carport.
The Eagle Carport's team will fabricate the RV carport. Time will be scheduled for delivery and the carport will be assembling onsite.
How will you use your RV Carports?
Store an RV
Store a truck
Store a boat
Store a fifth wheel
Store a pull-along
Store a bus
Workshop
Mechanic work
Why Do Folks Buy Metal RV Carports?

Simply put metal RV carports provide protection RVs requires. The relentless sun, rain, and wind take a toll on RVs. With proper care an RV will give more years of use.

Metal RV carports are more durable, affordable, and less maintenance than wooden carports. The point of getting an RV carport is to avoid the headaches of a damaged RV.
RV Carport Considerations
When it comes to RVs, it's a good idea to measure a few things. Of course, you should measure the height, length, and width. Make sure to accommodate for opening and closing the doors. The RV's doors can be blocked by posts, so be sure to have ample space for opening and closing doors in the carport.
If there aren't walls on the RV carport then the RV's sides are still exposed to the elements. An RV carport completely enclosed will provide extra protection and may be worth the investment. Even a partially enclosed RV carport will provide more protection than no walls at all.
RV Carport's Features & Options
We provide you 14 different colors to choose from for your roof, exterior walls, and trim. That is over 2,700 possible combinations! That is a lot of options.
The RV carport has a maximum leg height of 14'. At this height, just about any RV should fit. We offer garage doors, walk-in doors, and windows.
Panels are made from durable 29-gauge galvanized steel. Braces are on our RV carport to give it even more stability. The RV carport is complete with base rails.
All metal garages include a 90-day workmanship warranty and Becker's 20-year limited warranty on roofing materials.
Delivery
Eagle Carport will then fabricate all the components of your metal RV carport. Then time will be scheduled for a crew to come out and construct the metal RV carport onsite. From start to finish the whole process is designed to be easy and an enjoyable process. Eagle Carport is a national company and delivers anywhere there is a dealer. They have a reputation for quick delivery and great customer service.

FINANCING OPTIONS
Everyone should be able to afford quality; this is why we offer the Rent-to-Own option on our cabins, garages, and sheds.