Lofted Garages
Missouri's Barn Garages
The Lofted Garage is our most spacious model. Here at Backyard and Beyond we use only quality materials, and every garage is given the attention and excellent workmanship you would expect. We make sure we deliver everything we promised because that's good business.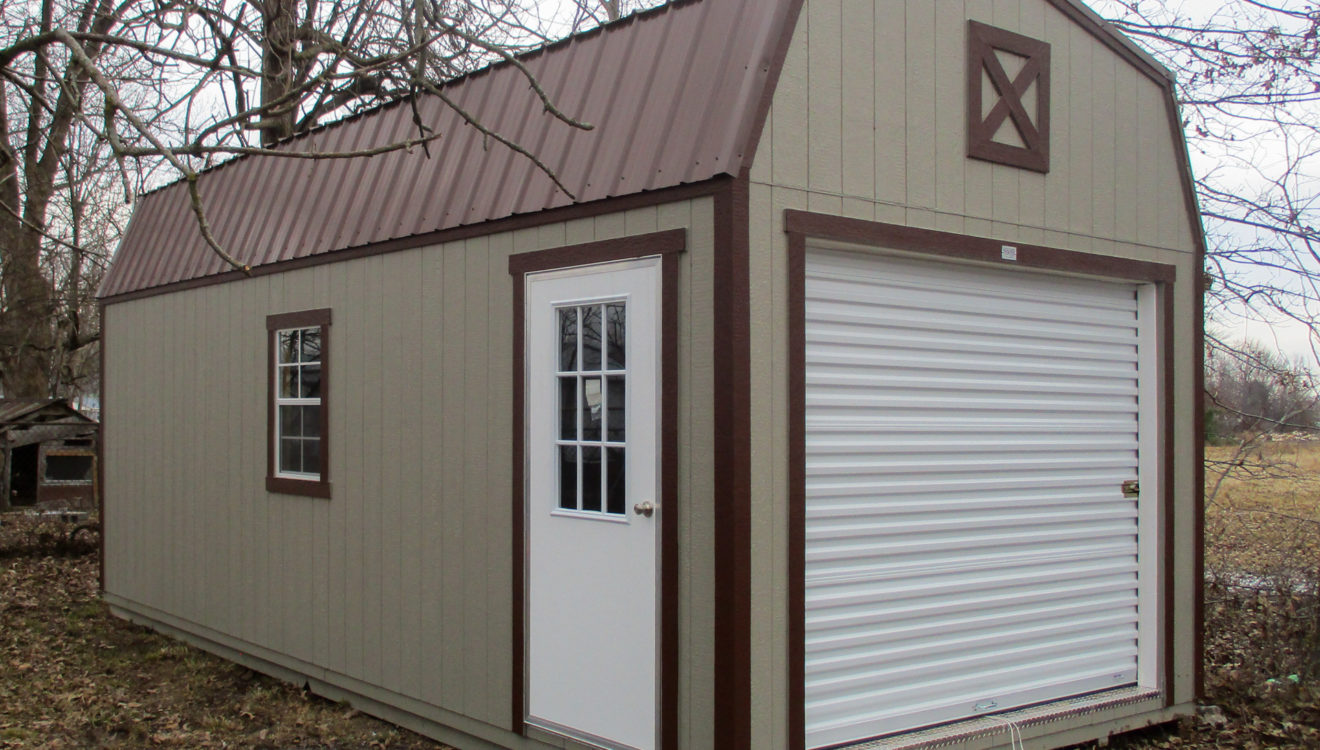 What is a Lofted Garage? The lofted garage or "barn garage" looks like a barn because of the type of roof it has. This roof is known as a gambrel roof. The gambrel roof creates more space which is utilized with a loft… hence the "Lofted Garage".
How will you use your lofted garage?
More Storage Space
Store a Car
Store a Small Tractor
Store a Riding Lawn Mower
Store ATV
Workshop
Why Do Folks Buy Lofted Garages?
If you have been comparing garages, you are probably aware that not all garages are the same. So why do some people opt to go with a Lofted Garage?

First, Lofted Garages make it easier for you to store your things. Once you start using a loft you will really appreciate the space it provides you.

Secondly, we prebuild our barn garages, so you save money compared to onsite builds. Our barn garages are built at our manufacturing facility in a controlled environment. This controlled environment allows us to work more efficiently and saves time. This in turn saves you money.
Garage Features & Options

Garage's Description
The lofted garage has a gambrel roof and a rollup door. One thing we do here at Backyard and Beyond is build our garages with solid flooring. The joists are 12" on center.
The Lofted Garage Includes:
A 9' x 7' Roll-Up Garage Door
2 – Windows
1 – 36" Wide Door
92" Sidewalls
Joists are 12" On Center

Prebuilt Garage Options
The Lofted Garage comes with a metal roof. You have the option to upgrade to shingles. Metal and Shingle roofs are available in several colors. You can choose where you would like your windows and door.
You can choose two colors for the lofted garage: one for the walls and a second for the trim. We have various color options in both paints and stains.

Delivered
Our lofted garages are built locally in Ellsinore, MO, and delivered by our own drivers. Because our primary form of advertisement is through recommendations from customers, we give each customer personal attention to ensure they are completely happy with the lofted garage and that we deliver everything we promised. We deliver up to 100 miles from Ellsinore, MO.

FINANCING OPTIONS
Everyone should be able to afford quality; this is why we offer the Rent-to-Own option on our cabins, garages, and sheds.