Utility Sheds
You need more space, so you are considering a utility shed. We build utility sheds in sizes ranging from 8 x 12 – 16 x 40. We build our utility sheds from quality materials, and with excellent workmanship. So when you buy the utility shed from us, you know you will get many years of use out of your shed.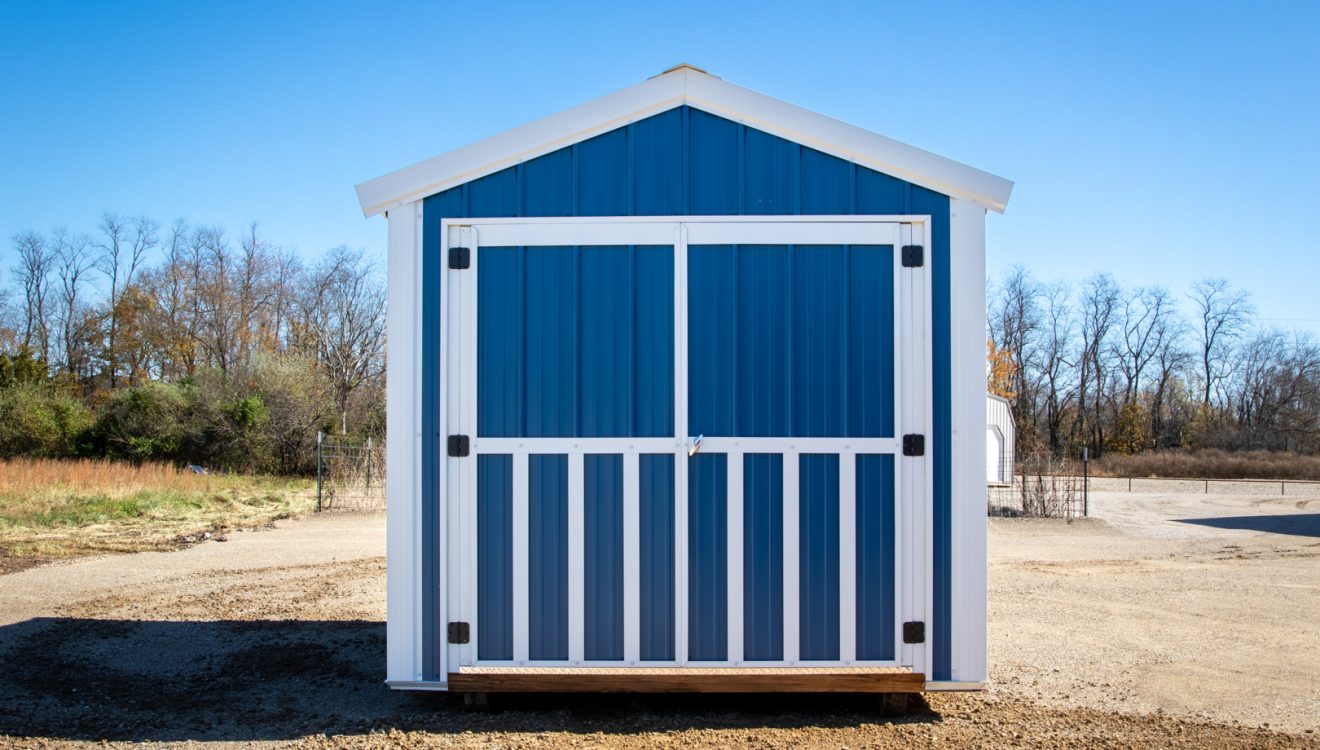 The Utility Shed is a prefab shed designed to have higher walls without adding an overhead loft. Built with an A-Frame style roof, this utility shed is an attractive addition to any property. With standard sizes ranging from 8 x 12 up to 16 x 40, we have utility sheds for almost any need!
If you need extra storage for lawn and garden equipment, then the Utility Sheds are what you need. This shed is our most economical option without compromising quality.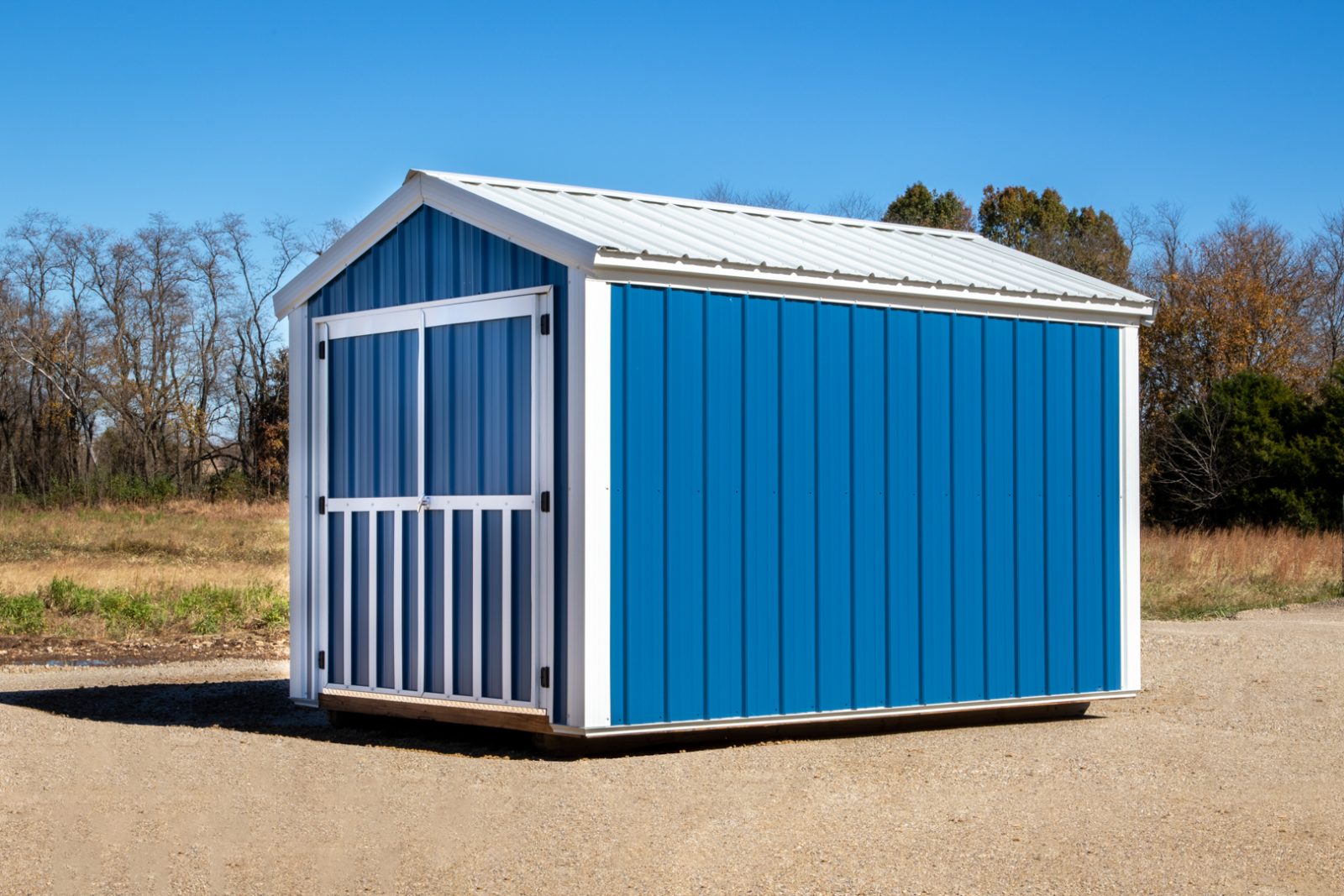 The Utility Sheds for sale from The Backyard & Beyond. The Utility Sheds are the smallest storage shed style from The Backyard and Beyond and come in 3 different styles; LP SmartSide, metal, and wood. The Utility Shed could easily be used for all sorts of storage needs, whether you need a place to set up a workshop or to store something as large as a U.T.V, these utility buildings are what you're looking for.
How will you use your utility shed?
Store garden/lawn equipment
Store bikes
Store boats
Workshop
Store wood
Pool houses
General storage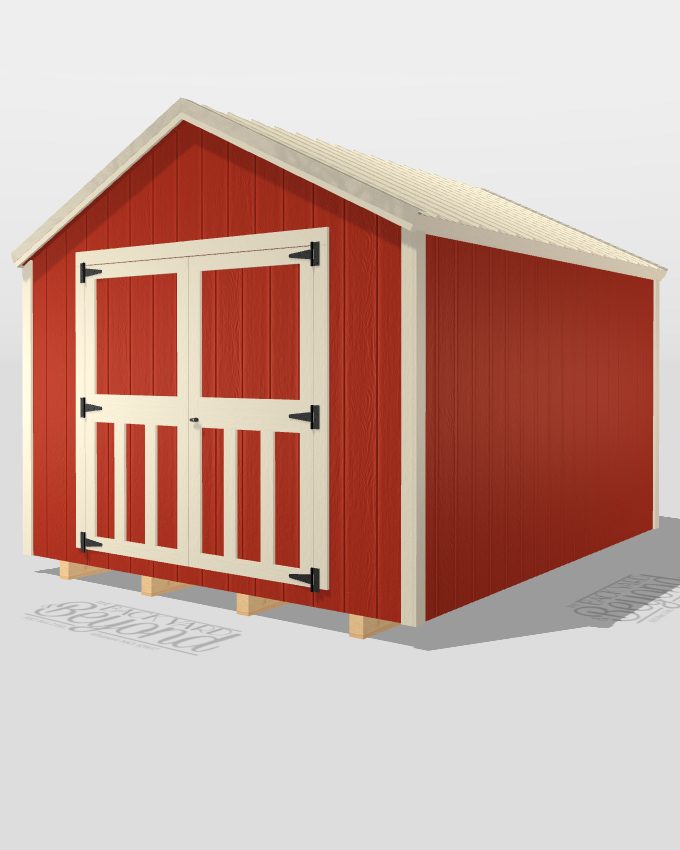 Design Your Custom Utility Shed for FREE
A Utility shed could be what you've been looking for, if you have need space and are ready to make a great investment to solve your storage needs, then choosing a Backyard & Beyond's Utility shed is the right move for you. Easily use our 3D Shed Builder to design your Utility shed today. You will be able to customize all sorts of things about your Utility shed, from colors to the actual construction materials. Getting the perfect storage utility shed to fit your specific needs is simple and fun.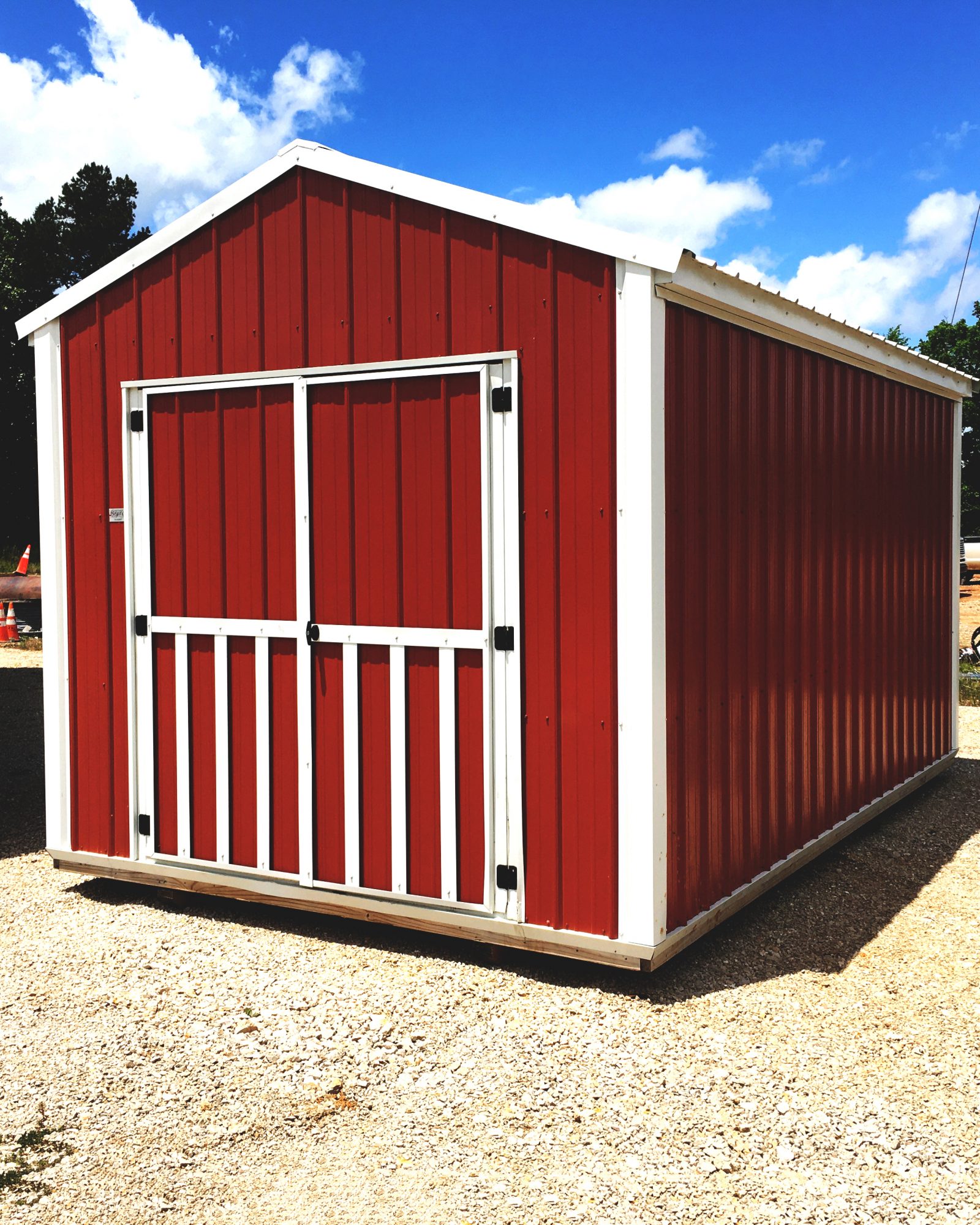 Why Do Folks Buy Utility Sheds?
Utility sheds are generally smaller and more affordable. Our utility sheds are built standard without windows,
but windows can be added. For this particular model, the door is at the end.

The utility shed is an economical and wise investment. It comes in sizes ranging from 8×12 – 16×40. So there's a size to fit every need. We offer a wide range of color options and add-ons, so you get exactly what you are looking for at a great price!

What makes this shed so great? The Utility Shed is a great, practical all around shed. It's a functional shed. It gets the job done the way you need it done.  And it can serve numerous possible purposes.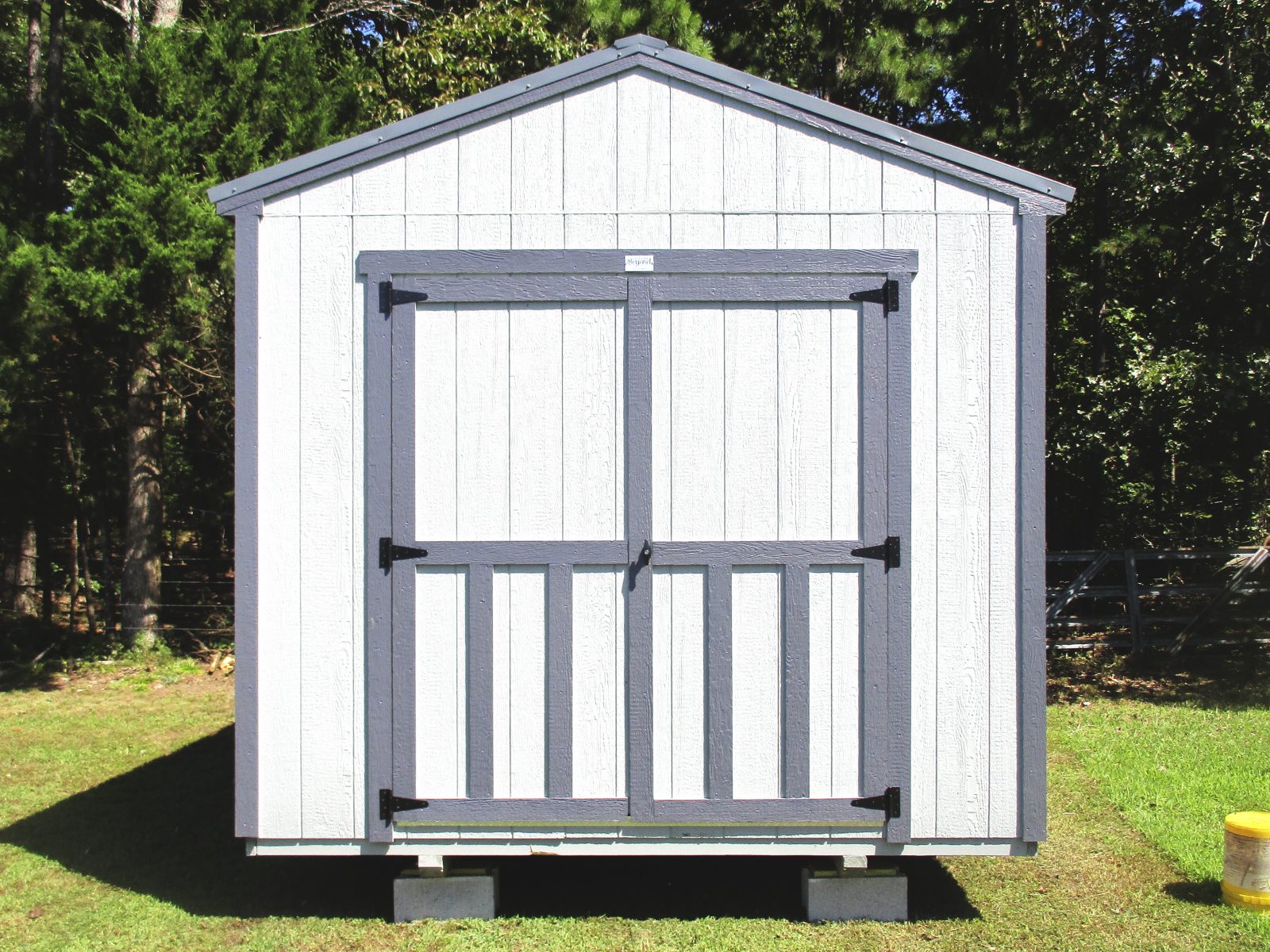 Utility Shed Delivery in MO & AR
With our custom hauling equipment, we can deliver utility sheds and other prefab buildings to Blytheville, Jonesboro, Osceola in Arkansas, and Advance, Cape Girardeau, Dexter, Doniphan, Poplar Bluff, Silva, and other towns throughout Missouri. We'll even deliver prefab storage sheds to the surrounding areas in MO!
We'd love to help you create the perfect Utility Shed for your needs. To get started, just give us a call or request a free quote. Let's get you the shed you need!
Utility Shed Includes:
6′ High Double Door
8'x12′, 10'x12′ Sheds have 76" sidewalls
16′ and Longer Sheds have 92" sidewalls
Wood Doors
Sizes Available:
8×12
10×12
10×16
10×20
10×24
12×16
12×20
12×24
12×32
12×36
12×40
14×32
14×40
Utility Shed Features & Options

Shed's Description
The Utility Shed is a standard A-frame basic shed. They generally make great backyard sheds. They are economical yet built with the same quality as our other storage sheds. They can be made to match your house in color and roof. The door is at the end of the utility shed or the shorter side.
The Utility Sheds Includes:
6' double door
8' x 12', 10' x 12' Sheds have 76" sidewalls
Utility Sheds with 16' and longer shave 92" sidewalls
Wood Door

Utility Sheds' Options
Utility sheds come standard with metal roofs. You have the option for a shingles upgrade. You also have several color options. As stated above you can add windows to this model. The Side Utility Shed includes two windows if you are interested in that option. Consider upgrading to a snake and rodent resistant door.
Click below to download our FREE Price List to learn about other options.

Delivery
All of our utility sheds are built locally in Missouri and delivered with our own trucks. We see it through from start to finish, so the same quality of workmanship that goes into your utility storage also goes into its delivery. We want your experience of buying a utility shed to be so pleasant that you proudly recommend us to others. We will deliver up to 50 miles from any of our dealers.

FINANCING OPTIONS
Everyone should be able to afford quality; this is why we offer the Rent-to-Own option on our cabins, garages, and sheds.