Reviews
Read what customers are saying about Backyard & Beyond
Happy customer
Very pleased with my recent purchase. These folks excel in both construction and customer service. I would recommend this company to anyone looking for a quality built shed or cabin.
Peggy Carlstrom
Williamsville, Mo
December 29, 2021
Simply awesome!!!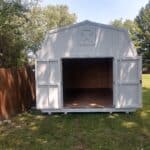 My new building was delivered and set up today as scheduled. It is awesome. EXACTLY what I ordered. Set up was wonderful, done quickly, and done right!!! I am so pleased with this building and the customer service. 10 stars to the quality of the building and the awesome delivery crew!!!!
John Wade
Perryville, MO
August 23, 2021
Good build. Quality customer service.
Joe Middleton
Centerville Mo
January 6, 2021
Utility Shed
The utility shed was delivered in great condition.   The delivery guy was very respectful and professional.
Donna
Missouri
March 13, 2020
Very Pleased with the Storage Building
We want to let you know that we are very pleased with the storage building that was delivered earlier today. We also want to let you know that your driver is a very professional individual who made a tough job look easy. With the rather limited space we have to maneuver the trailer around in, he got the rig turned around and proceeded to back the shed in next to our larger shop building. He then proceeded to square the building up with the Mule after which he blocked it level.
Everything he did was perfect right down to the last detail and we couldn't be more pleased with the service he provided. A job well done…….
Schryner
Missouri
January 16, 2020
Leave Your Review