Great purchase
We bought my she shed/ lofted workshop and I love it. They moved it and did a great job. Customer service was the best. Hoping to purchase a garage this summer
Julie and Joey Eggemeyer
Chester Illinois
June 24, 2022
Happy customer
Very pleased with my recent purchase. These folks excel in both construction and customer service. I would recommend this company to anyone looking for a quality built shed or cabin.
Peggy Carlstrom
Williamsville, Mo
December 29, 2021
Simply awesome!!!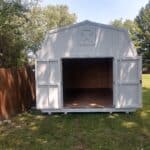 My new building was delivered and set up today as scheduled. It is awesome. EXACTLY what I ordered. Set up was wonderful, done quickly, and done right!!! I am so pleased with this building and the customer service. 10 stars to the quality of the building and the awesome delivery crew!!!!
John Wade
Perryville, MO
August 23, 2021
Great Work!
I have purchased two large chicken coops (16×32) from Sunrise(now owned by Backyard & Beyond) and both are well-built and just as I ordered. I will for sure use them for future coops and outbuildings on my new farm! Highly recommend this company!
Jayne P.
May 3, 2021
DELIVERY GUYS ROCK
I waited quite a while for my horse shelter, but it was well worth the wait. I love it and so do my girls (horses). The delivery guys did such a great job as they faced several challenges. Muddy access on a hill made the truck slip, but they inched their way up using this awesome trailer that actually pushed the truck up the hill. The area where the building was placed should have been much larger, but they managed to get it in there exactly where we wanted it. They didn't quit until it was perfect.
Jodi Collier
January 14, 2021
Good build. Quality customer service.
Joe Middleton
Centerville Mo
January 6, 2021
Utility Shed
The utility shed was delivered in great condition.   The delivery guy was very respectful and professional.
Donna
Missouri
March 13, 2020
Very Pleased with the Storage Building
We want to let you know that we are very pleased with the storage building that was delivered earlier today. We also want to let you know that your driver is a very professional individual who made a tough job look easy. With the rather limited space we have to maneuver the trailer around in, he got the rig turned around and proceeded to back the shed in next to our larger shop building. He then proceeded to square the building up with the Mule after which he blocked it level.
Everything he did was perfect right down to the last detail and we couldn't be more pleased with the service he provided. A job well done…….
Schryner
Missouri
January 16, 2020
Quality And Construction, Excellent
What a crew, with a good attitude and hard work ethics. They did the impossible, installing my 16'x20' custom built garage. It was a very hot day, but David, Josh, and Kenny didn't quit until the job was completely done, thank you, gentlemen.
Wayne Loar
January 16, 2019
Nice & Professinal
The crew was very nice & professional.
Margaret S.
November 17, 2017
We Want To Thank You
We want to thank each and everyone of you for your kindness, help, good advice, and extreme patience during our patience of our building. We are so surprised at how much we enjoy sitting on our porch, doing nothing, in the peacefulness of the woods. God bless you all.
L. Jepseu
May 16, 2015
Thank You For All Your Hard Work.
Thank you for all your hard work on the cabin. We look forward to using it and appreciate the good workmanship.
Rick Nelson
November 20, 2014
Great Cabin And Delivery
I have worked in the foundation repair industry for over 34 years now and have seen a lot of laborers come and go. You guys are the best that I have ever had the pleasure to be around. They have the right stuff to be able to work, laugh, work some more and get the job done. Great guys. Clean, kind, courteous, diligent, and informative the entire process of delivery and set up. What was promised was delivered. Work ethics are rare these days, and you guys are awesome. I feel blessed to have met you and yours.
Rick Sheridan
September 1, 2014
Pleased With New Storage Building
Thanks for all the work you and your team did with the construction and delivery of the home. I must say that I shopped around quite a bit before I came to your place for storage buildings. Your costs for the buildings were much more reasonable than many other businesses in the area. The quality of work with the buildings that my husband and I seen that day on your lot was far superior than most other buildings built from other businesses too. I am very pleased with our new building and the time and care you and your crew took to make sure we were happy with the building before delivery.
Thanks for all the hard work. We are really enjoying our new storage building.
Susan Kifer
August 4, 2014
Leave Your Review

FINANCING OPTIONS
Everyone should be able to afford quality; this is why we offer the Rent-to-Own option on our cabins, garages, sheds, animal structures, and greenhouses.