Chicken houses
Our Chicken Houses are made of maintenance-free exterior metal or wood siding, and the inside is designed for the comfort of your hens with roosts for them to perch on at night. Our handy egg boxes can gather those delicious eggs without even going inside the coop. Our chicken coops make raising chickens easier.
Chicken houses Include:
4' x 6' base
76" sidewalls
48" stud and rafter spacing
36" door (2x)
24×36 windows (2x)
16×16 chicken door opening
3' feed room on buildings 10×16 and larger
No floor except in feed room
1/2 closed 1/2 open wire

*Note: No feed rooms on 12' long buildings.
OUTDOOR DOG KENNELS
Give your dog a warm, dry, and protected home with a beautiful outdoor dog kennel with plenty of room. Lots of sizes to choose from. Contact us today for prices and sizes for a dog kennel that your dog will love. We build our dog kennels right here in Missouri.
Dog Kennel Includes:
Composite flooring in open area
Windows (2x)
1 large dog door per box
1 chain link door per box
1 inside door per box
3' feed room
76" sidewalls
4' wide per box (customization available)
RUN-IN HORSE BARNS
This building can be used as a universal shed. Although called an Open Run-in Horse Shed, it can also be used for small equipment or other animals. This simple structure can be modified in so many ways to fit your needs.
Run-In Horse Barn Includes:
10', 12', 14', and 16' widths available
Up to 50' length available
4" x 6" MCQ treated perimeter beam
Steel plating on studs and rafters
48" stud and rafter spacing
Interior lined with oak kick boards
6" boxed eave soffit on the side (1x)

*Note: The Horse Barn is only available in metal.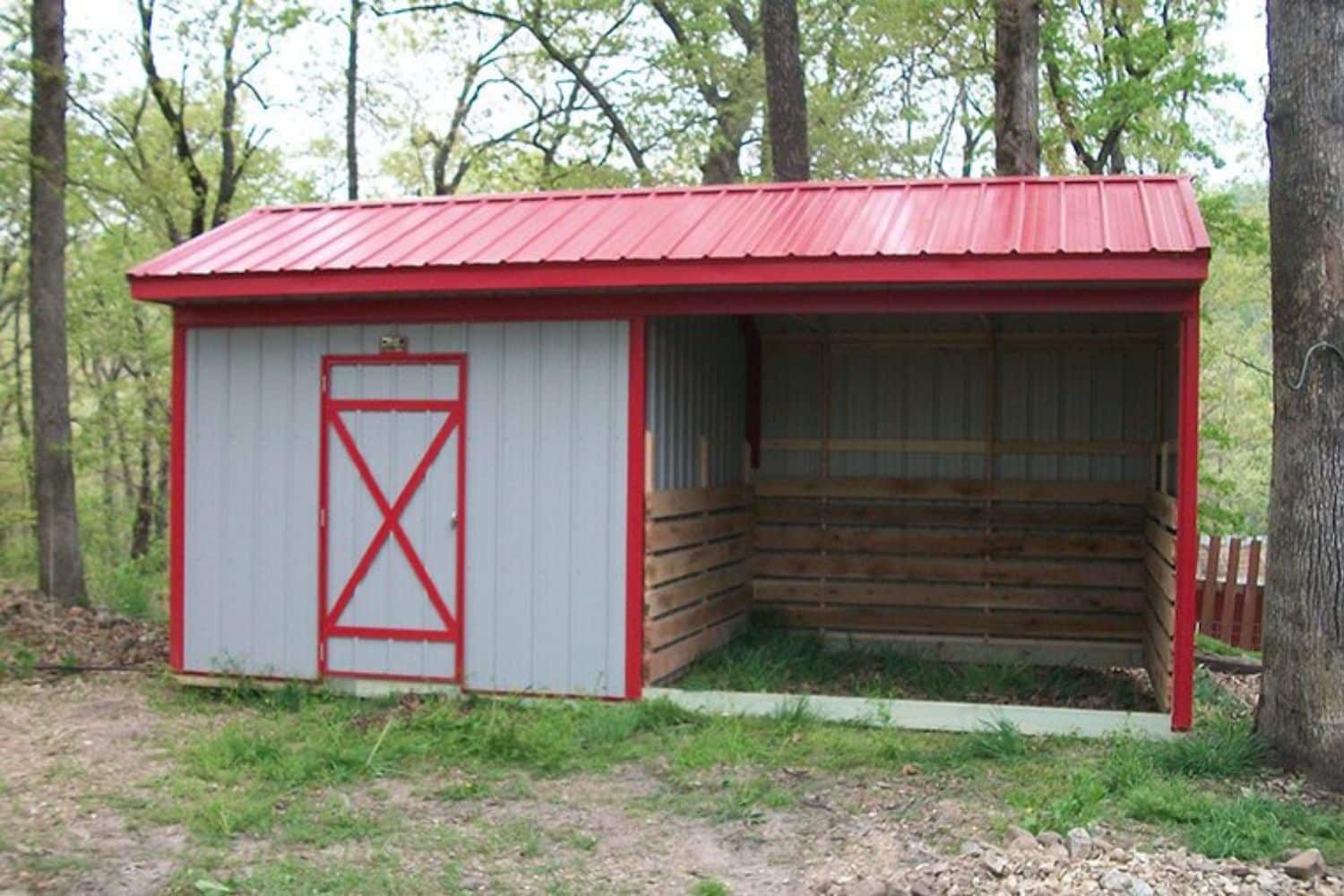 Animal Structure Inventory in Missouri
Browse our versatile Animal Structures for one that will fit your animal. Whether horses, dogs, or chickens, we have a building that will work well for your scenario. See what our Animal Structures can bring to your property and your animals!
Locally Built and Delivered
All of our animal structures are built locally in Missouri and delivered with our own trucks. We see it through from start to finish, so the same quality of workmanship that goes into your shed also goes into its delivery. We want your experience of buying a shed to be so pleasant that you proudly recommend us to others. We even offer free delivery up to 150 miles from our manufacturing facilities in Ellsinore & Versailles, MO, 100 miles from our location in Hermitage, and 50 miles from any of our dealers.


FINANCING OPTIONS
Everyone should be able to afford quality; this is why we offer the Rent-to-Own option on our cabins, garages, sheds, animal structures, and greenhouses.