The Backyard & Beyond is your local Versailles, Missouri, backyard chicken coop manufacturer. We're happy to answer any questions you have and help you find the right backyard chicken coop for your flock in Missouri. Your chicken coop will be built with quality materials and workmanship. Being satisfied with your backyard chicken coop is paramount because that's good business. We are honest and care about our customers.
Prefab Backyard Chicken Coops in Missouri
Give your chickens a warm, dry, and protected home with a beautiful chicken coop that offers plenty of room. Lots of sizes to choose from. Call us today for prices and sizes for a coop that your backyard flock will love.  We build quality chicken coops right here in Missouri.
Why Do Folks Buy Backyard Chicken Coops?
Chickens are fun. Chickens are easy to keep. Best of all, chickens lay eggs, who doesn't enjoy breakfast with eggs laid in their own backyard? We have several different styles of chicken coops to keep your hens happily clucking. We build them using a maintenance-free exterior metal or wood siding, and the inside is designed for the comfort of your hens with roosts for them to perch on at night. Our handy egg boxes have access to gathering those delicious eggs without even going inside the coop. We have ramps built with traction bars for the chickens to climb back inside at night easily.

First, prefab chicken coops are more affordable than contracting an onsite build. We build our kennels under more controlled circumstances, which allows us to develop a more efficient process. This save us time and your money.

Another reason folks buy prefab backyard chicken coops is they don't want the headaches of the construction process. Prefab chicken coops are completed before delivery so when it arrives it will be ready to use. Take a look at a few examples of our prefab coops below.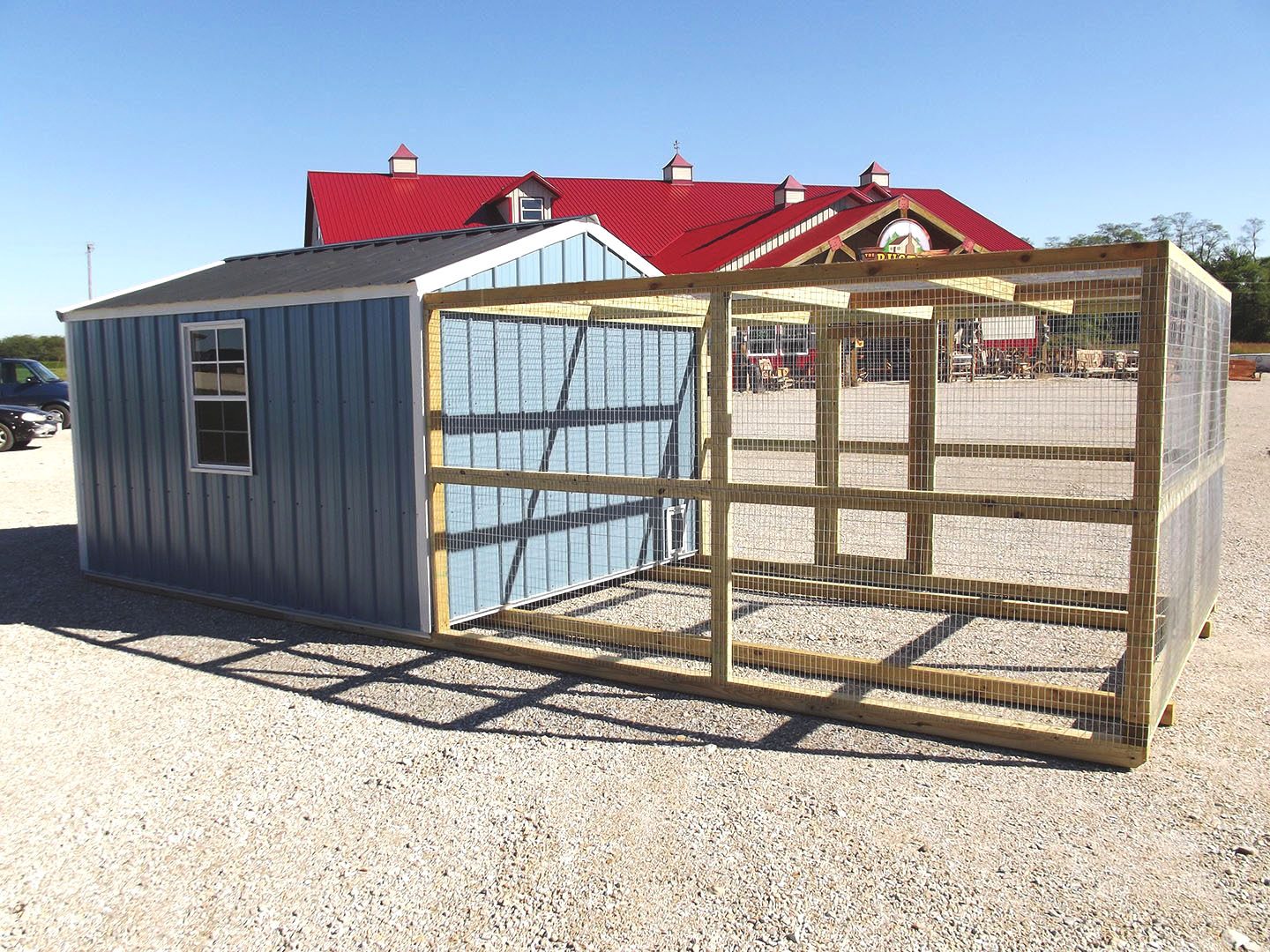 Prefab Backyard Chicken Coops For Sale in Missouri
With our custom hauling equipment, we can deliver prefab chicken coops and other prefab buildings to Blytheville, Jonesboro, Osceola in Arkansas, and Advance, Cape Girardeau, Dexter, Doniphan, Poplar Bluff, Ellsinore, Versailles, Silva, and other towns throughout Missouri. We'll even deliver prefab buildings to the surrounding areas in MO!
We'd love to help you create the perfect home for your dogs. To get started, just give us a call or request a free quote. Let's get you the backyard chicken coop you need!