Sheds
Storage Shed Models
We are a local company in Missouri you can trust to build your quality storage sheds at competitive prices. Our commitment to you is quality workmanship completed ON TIME and ON BUDGET, because good business delivers everything as promised.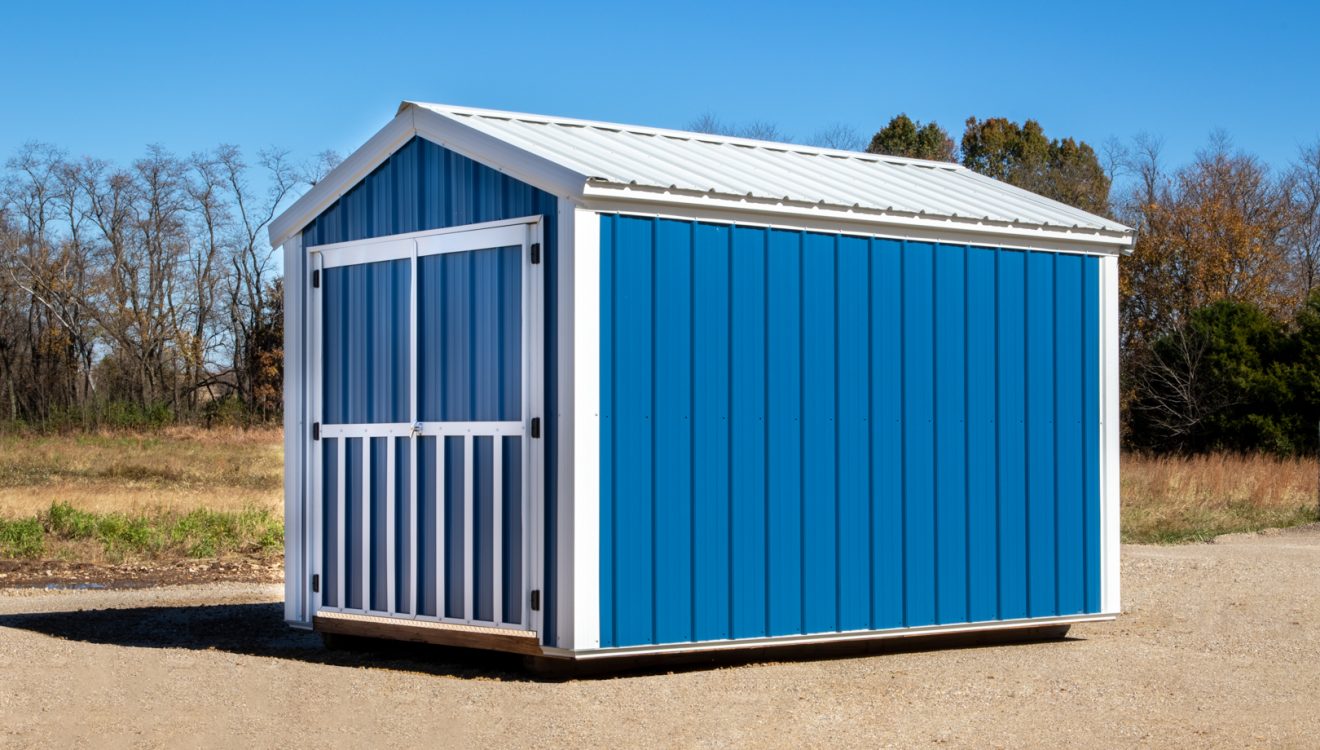 Storage Sheds Models
The Utility Sheds are for sale from The Backyard & Beyond. The Utility Sheds are the smallest storage shed style from The Backyard and Beyond and come in 3 different styles; LP SmartSide, metal, and wood. The Utility Shed could easily be used for all sorts of storage needs, whether you need a place to set up a workshop or to store something as large as a U.T.V, these utility buildings are what you're looking for.
This is an A-frame building with the door set at the end. It comes standard with no windows, but you have the option to add them.
Utility Shed Includes:
6' high double door
8' x 12', 10' x 12' sheds have 76" sidewall
16' and longer sheds have 92" sidewalls
Wood Doors
This storage shed's doors are on the side. It gives more room for double doors. Our Side Utility Sheds are the perfect place for you to store all of your lawn care equipment and tools. This storage shed includes windows that will bring natural light to improve the quality and comfort of the storage shed and can provide light to the shed in the morning. But most importantly, it will keep your things safe and dry.
12' Sheds Include:
Two 2' x 3' windows and a 36" wide door
16' or Longer Sheds Include:
Two 2' x 3' windows and 6' high wood double doors
The Lofted Barn storage shed door is at the end and doesn't come standard with windows. Windows can be added if you need them. These storage buildings not only provide you with the standard storage space that comes with any of our sheds, but we've added a lofted feature that maximizes the overhead storage space.
Lofted Barn Includes:
4' Lofts at each end
76" Sidewalls
6' Double Doors
The Side Lofted Barn is similar to the Lofted Barn but with the doors on the longer side, and it includes windows. Side Lofted Barn will provide you with the most natural light because of the 2 window design. Tough construction, attractive design, and lots of natural light make this Side Lofted Barn one of our best storage buildings. Most people put the windows on both sides of the door, but they can be placed elsewhere.
12' Side Lofted Barn Includes:
Lofts at each end
76" sidewalls
Two 2' x 3' windows
36" wide door
16' or Longer Side Lofted Barns Includes:
Lofts at each end
76" sidewalls
Two 2' x 3' windows
6' high wood double doors
The Carolina Barn is a beautiful storage shed with a metal exterior on a wooden frame. This spacious storage shed is excellent for anyone seeking a unique design with an aesthetic appeal.
Carolina Barns Includes:
A Spacious-Centered Loft
76" Sidewalls
6' Double Doors
Metal Prefab Shed
Sheds' Standard Features
Below are some of the standard features in all of the storage sheds we build. We strive to build storage sheds to last at a price people can afford.
4×6 runners notched for floor joists
2×6 treated floor joists 12" on center
2×4 wall and roof framing 16" on center
8' wide buildings 2×4 treated floor joists 16" on center
LP shed floor-warrantied for the shed industry
50 yrs. Treated LP Smartside
High-quality paint-limited lifetime warranty
45 yrs. Premium roof metal with underpayment
All materials have a manufacturer's warranty
Storage Shed's Considerations
Some things that you might consider are where the shed will be placed and the direction of the doors and windows. This could determine which model is the right fit for your needs.
Doors need to face the direction that you can easily get your equipment in and out. Also, make sure you have plenty of entry space to get your equipment through the door. You may need a ramp to get your equipment in. In some cases, the direction the water runs off the roof might be important too. (You may not want it to run off in front of the door.)
Locally Built and Delivered
All of our storage sheds are built locally in Missouri and delivered with our own trucks. We see it through from start to finish, so the same quality of workmanship that goes into your shed also goes into its delivery. We want your experience of buying a shed to be so pleasant that you proudly recommend us to others. We will deliver FREE up to 50 miles from any of our dealers.
LOT LOCATIONS
Our goal is the best quality at the very best price. Come visit any of our locations to feel the Backyard & Beyond difference.

FINANCING OPTIONS
Everyone should be able to afford quality; this is why we offer the Rent-to-Own option on our cabins, garages, and sheds.