Side Lofted Shed
Missouri's Lofted Barn Shed
You need more space, so you are looking at lofted sheds. This lofted shed needs to be made to last but yet affordable. Your storage barn should be built with quality materials and workmanship. We are your local company right here in Missouri. We are honest, and we want our customers to get what's right for them.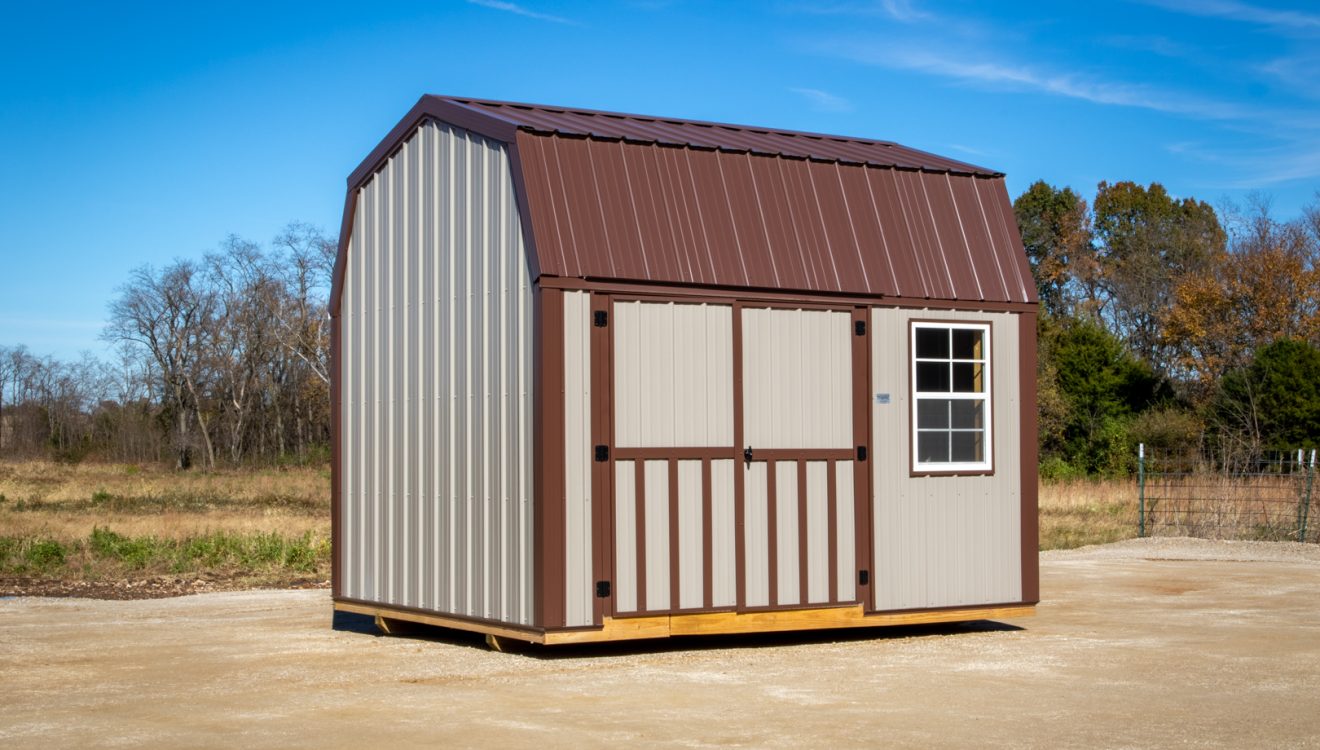 We want to answer your questions to help you find the right shed for your needs. Your side lofted barn shed should be built with integrity and delivered exactly as promised.
How will you use your Sided Lofted Barn Shed?
Storage barn
Garden shed
Store lawn equipment
Store bikes
Store wood
Workshop
Storefront
Why Do Folks Buy Side Lofted Sheds?
The Lofted Barn Shed is the storage shed you want when you need lots of space. You can add additional windows and doors where you need them.

The "barn" shed has a gambrel roof which opens up more headspace for the lofts. Folks buy this lofted shed because of the much needed storage space it offers. This is something you might not find in other sheds.

The Sided Lofted Barn has a door centered on the longest side. When you enter the shed you have spacious lofts on both sides. The lofts will clear more space below. If you prefer a higher ceiling, then don't include the lofts.
Utility Shed Features & Options

Shed's Description
The Side Lofted Barn comes standard with two windows and the door on the longest side of the shed. The "Lofted Barn" is another model that is built with a door at the end.
Sided Lofted barn Includes:
4' Lofts at each end
76" Sidewalls
2- 2×3 Windows
6' Double Doors

Side Lofted Barn Options
Sided Lofted barn comes standard with metal roofs. You have the option of shingles upgrades with several colors available. As stated previously, windows come with this model, and you can select where you would like the windows.
We offer a snake and rodent-resistant door upgrade. Click below to download our FREE Price List to learn about other options.

Delivery
Our lofted barns are built locally in Missouri and delivered by our drivers. Because we are a local company, we give you personal and professional attention from your initial visit to the delivery of your lofted barn. Satisfied customers are our best advertisements. This means we want you completely happy with your lofted shed, and we will deliver everything we promised. We will deliver up to 100 miles from any of our dealers.

FINANCING OPTIONS
Everyone should be able to afford quality; this is why we offer the Rent-to-Own option on our cabins, garages, and sheds.