Cabins
Missouri's Pre Built Cabins
Our commitment to you is to use only quality materials and excellent workmanship in our pre built cabins. Our work is always done with integrity and honesty. And we will deliver what we agreed upon ON TIME and ON BUDGET because quality should be before price.
Pre Built Cabins Models
At Backyard & Beyond we have worked hard to develop several premanufactured cabins for you to choose from. We love building excellent cabins and providing the best customer service. Our two main cabin options are the standard cabins or the lofted cabins. Once you choose your desired cabin style, the next step is choosing whether you want a finished interior or a shell interior. If you are looking for a pre-built cabin for storing things like tractors, mowers, ATVs, tools, seasonal decorations, and other things that don't fit in your garage or basement then you will want to go with a shell cabin. If you are in search of a cabin to use as a private getaway, in-laws quarters, or maybe a hunting cabin, then a finished cabin is what you want.
This cabin makes a great tiny house or small house. It is our most affordable pre-built cabin option. It has 8 x 16 to 16 x 40 options and includes a porch. This is an A-frame building with the door set at the end. It comes standard with four insulated windows.
Standard Cabins Includes:
Cabin Includes a Standard Porch on The Gable End
Four 2' x 3' Double Pane Windows
One 36" 9 Light Insulated Entrance Door
Optional Porch Railing
The lofted Cabin is a pre built cabin with a gambrel roof often referred to as a barn roof. This style has two primary appeals. It has a spacious loft, and it's more affordable than hiring a contractor to build a cabin onsite. This cabin makes a great tiny house or guest house.
Lofted Cabins Includes:
4' Loft in Each End
Cabin Includes a Gable Porch and 76" Sidewalls
Four 2' x 3' Double Pane Windows
One 36" 9 Light Insulated Entrance Door
Optional Porch Railing
Cabins' Standard Features
Below are some of the standard features in all of our pre-built cabins. We strive to build cabins to last at prices folks can afford.
4" x 6" runners notched for floor joists
2" x 6" treated floor joists 16" on center
2" x 4" wall and roof framing 16" on center
8' wide buildings 2" x 4" treated floor joists 16" on center
LP shed floor-warrantied for the shed industry
50 yr. treated LP Smartside
High-quality paint-limited lifetime warranty
40 yr. premium roof metal with underlayment
All materials have a manufacturer's warranty
Shell vs. Finished Cabin
Our cabins are sold as shells. This option is more affordable and gives you the option of finishing it yourself the way you want. We offer finished interior options if you would like us to finish it for you.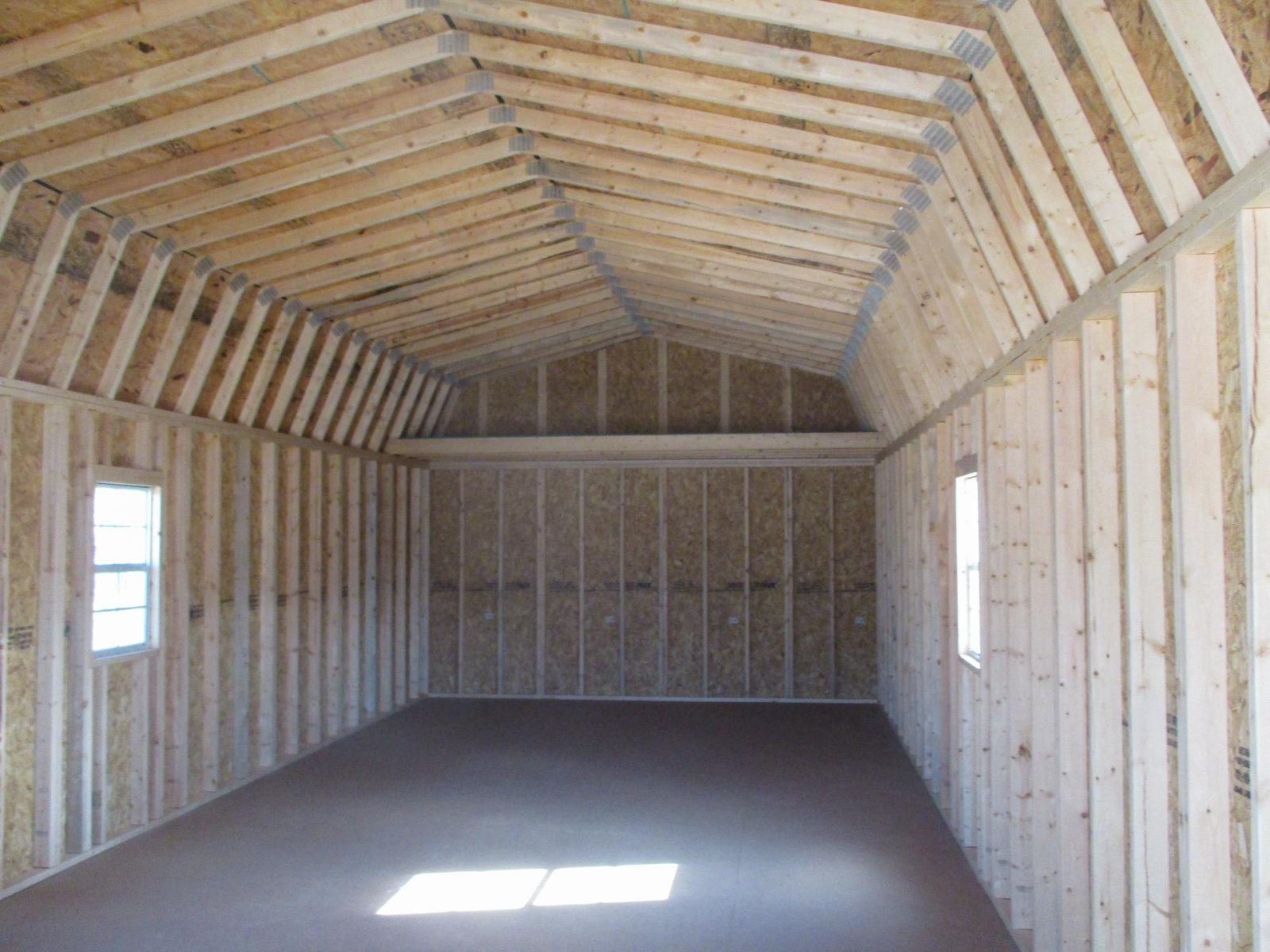 Shell Cabin
Locally Built and Delivered
All of our pre built cabins are built locally in Ellsinore, MO, and delivered with our own trucks. We see it through from start to finish so the same quality of workmanship that goes into your building your cabin also goes into its delivery. We want your experience of buying a cabin to be so enjoyable, that you proudly recommend us to others. We will deliver up to 50 miles from our dealers.
LOT LOCATIONS
Our goal is the best quality at the very best price. Come visit any of our locations to feel the Backyard & Beyond difference.

FINANCING OPTIONS
Everyone should be able to afford quality; this is why we offer the Rent-to-Own option on our cabins, garages, and sheds.