Side Entry Lofted Cabins
Missouri's Prefabricated Cabins
Finding the right prefabricated cabin isn't easy, but you want to get it right. You want a cabin that is built to give you many years of enjoyment, but also affordable. This prefab cabin needs to be spacious enough for the whole gang. You might be looking for the Side Entry Lofted Cabin.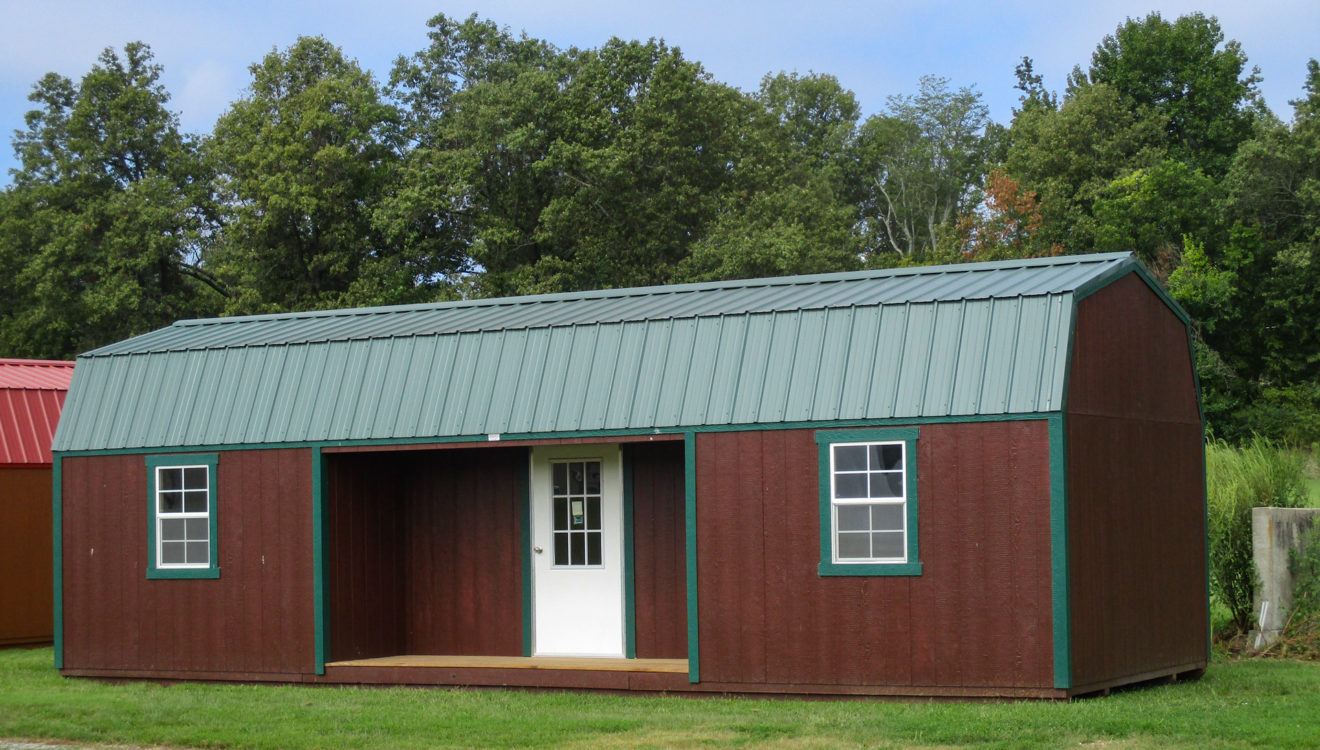 We work hard to bring you great prefabricated cabins built with quality materials, hard work, and excellent workmanship. We know you have questions and want to inspect the quality yourself. Let us show you how we stand apart from the competition.
How will you use your cabin?
Family Retreat Cabin
Tiny Home
Workshop
Office
Hunting Cabin
Guest House
Apartment
Why Do Folks Buy Lofted Cabins?
The Side Entry Lofted Cabin is our most spacious prefab cabin. We build these cabins up to 16' x 40'. The gambrel roof opens up space in the upper interior that we utilize with two 4' lofts at each end. The lofts could be used for storage or lodging.

Our prefabricated cabins can save you a lot of money compared to onsite builds. The primary reason is efficiency. We build our cabins at our manufactory facility and have developed efficiency in our process. This saves time and we pass the savings on to you.

When we finish building the prefab cabin our driver delivers the cabin completed to you. This saves you the unnecessary headaches of a construction crew camping on your property for weeks, and you paying the bill. Also, we build the prefab cabins as shells (unfinished interior). You then can decide if you want to finish the cabin and how you want to finish it. We do it this way to save you money, but we also offer finishing options if want us to finish the interior.
Cabin Features & Options

Cabin's Description
As the name implies this model entry is on the side. This prefab cabin gambrel roof is what gives it the "barn look". It is available in sizes ranging from 12' x 32' to 16' x 40'. If you are looking for a similar but smaller cabin with the entry at the end, then we recommend the Lofted Cabin.
Two 4' Lofts – One at Each End
Cabin Includes a Porch on the End
Five 2' x 3' Insulated Double Pane Windows
One 36" 9 Light Insulated Entrance Door
Optional Porch Railing

Prefab Cabins Options
Prefab cabins come with a metal roof. You have the option to upgrade to shingles. Metal and shingle roofs are available in several colors. You can choose where you would like your windows.
You can choose two colors for the prefab cabins: one for the walls and a second for the trim. We have various color options in both paints and stains.

Delivered
Our prefabricated cabins are built locally in Ellsinore, MO, and delivered by our own drivers. We invite you to visit one of our sales lots to see firsthand the quality of our work. We would love to walk you through and answer any questions you have. We want you happy with your purchase more than we want to sell you a prefab cabin.
We deliver up to 50 miles from any of our dealers.

FINANCING OPTIONS
Everyone should be able to afford quality; this is why we offer the Rent-to-Own option on our cabins, garages, and sheds.