Prefab Garage
You need a local Missouri company you can trust that builds quality portable garages. They need to be able to answer any questions you have about prefabricated garages, and they need to deliver everything they promise.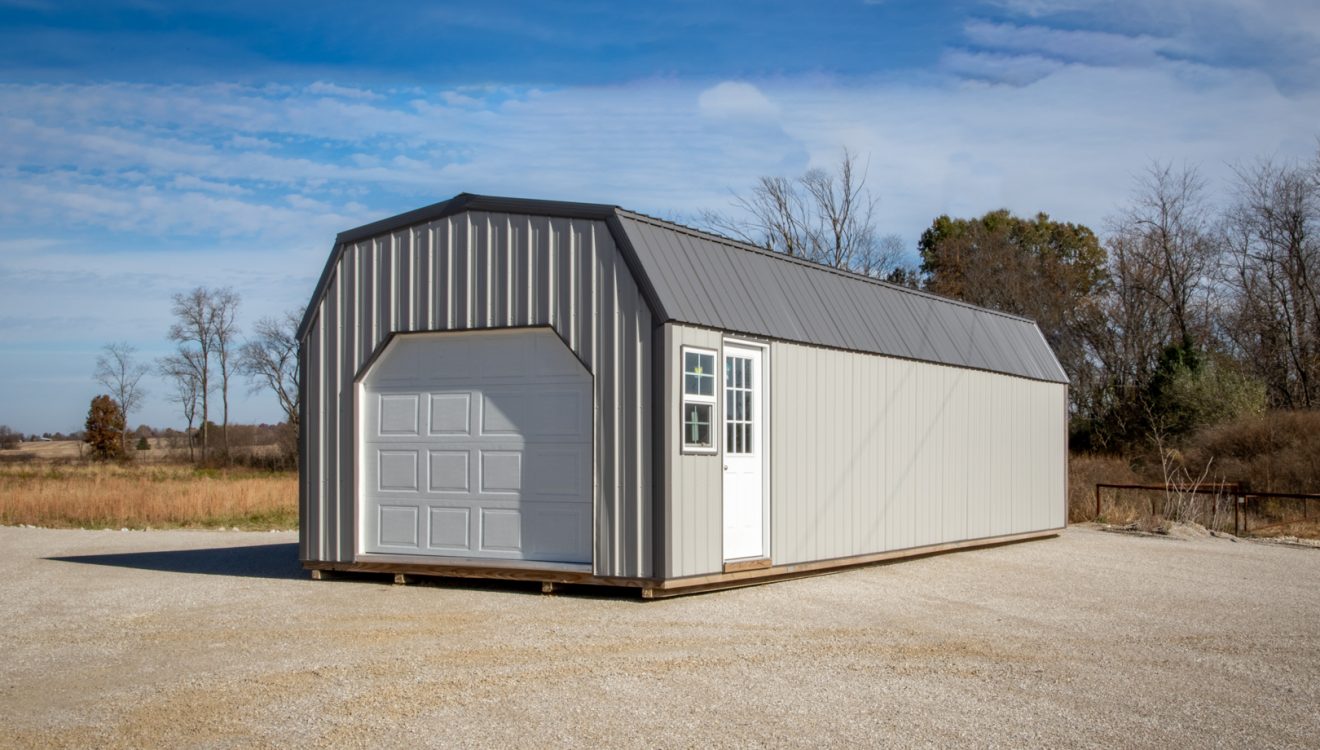 Portable Garages from Backyard & Beyond in Missouri
For the ultimate convenience and practicality, try our portable garages in Missouri. The 8 ft. tall sidewalls give ample room for a workshop installing tall storage shelves. A 9 ft wide and 7 ft tall door makes even large objects easier to bring in. Adding a workbench, vents, skylights or ramp would pay for itself just by making your work easier.
This garage is a quality-built portable garage with a gable roof. It is suited for parking anything from lawn equipment, ATVs, motorcycles, or garden tools to cars. Standard garages are also great for a workshop or personal gym. There are options for windows, doors, shelves, etc. Get your Garage delivered within the first 50 miles for FREE from any of our dealers.
Standard Garage Includes:
1 – 9'x7' Roll-Up Garage Door
2 – Windows
1 – 36" Wide Door
92" Sidewalls
Joists are 12" on Center
If you are considering a portable garage with extra storage space, then the Lofted Garage is what you need. It is built with a gambrel roof, which opens up overhead space for a spacious loft. It looks like a barn garage because of the gambrel roof design.
Lofted Garage Include:
Built-in Loft
1 – 9'x7' Roll-Up Garage Door
2 – Windows
1 – 36" Wide Door
92" Sidewalls
Joists are 12" on Center
Garages' Standard Features
Below are some of the standard features in all of our prefabricated garages we build. We strive to build our portable garages to last at a price people can afford.
4×6 runners notched for floor joists
2×6 treated floor joists 12" on center
2×4 wall and roof framing 16" on center
8' wide buildings 2×4 treated floor joists 16" on center
LP shed floor-warrantied for the shed industry
50 yr. treated LP Smartside
High-quality paint-limited lifetime warranty
45 yr. premium roof metal with underlayment
All materials have a manufacturer's warranty
Portable Garage Considerations
Garages come with a standard door and windows. You can request the door on the side that will give you the easiest access. And you may want the windows on a different side other than the standard locations.
Locally Built and Delivered
Our portable garages are built locally in Missouri and delivered by our own drivers. We see that the process from design to delivery has the same quality of care and workmanship. We know that when we bless our customers with our best, they happily recommend our services to their friends and family. This is the best way to build a business. We deliver FREE up to 50 miles from any of our dealers.
LOT LOCATIONS
Our goal is the best quality at the very best price. Come visit any of our locations to feel the Backyard & Beyond difference.

FINANCING OPTIONS
Everyone should be able to afford quality; this is why we offer the Rent-to-Own option on our cabins, garages, and sheds.