Missouri 3D Shed Builder
Design Your Ideal Shed, Cabin, or Garage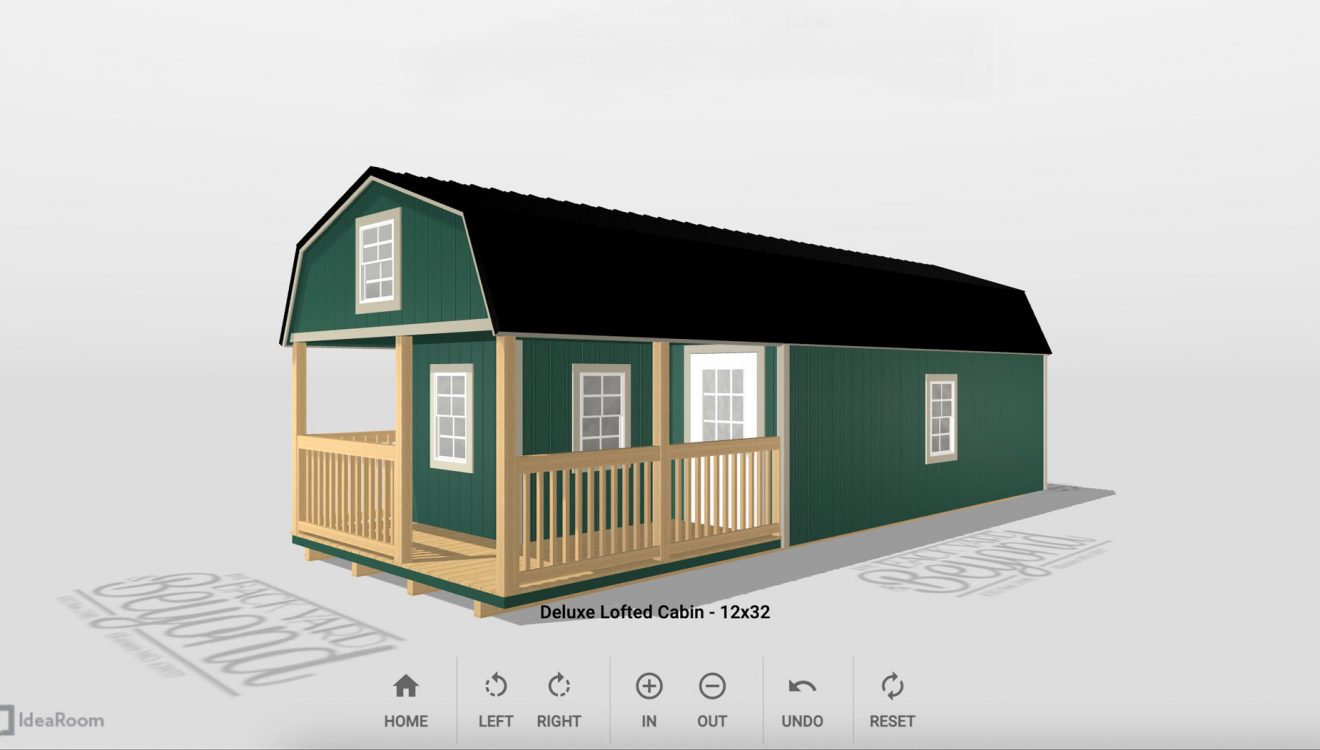 The Backyard & Beyond has been designing and building prefab cabins, sheds, and garages in Ellsinore, Missouri since 2015. Now we are bringing the shed design portion of the process to you. You can use our Missouri 3D Shed Builder to design your own custom cabin, shed, or garage. We've detailed exactly how to use our 3D shed builder.
For the purpose of this blog, we are going to walk through the design of a lofted cabin, and we will refer to the design as a cabin design throughout but remember that you can go through the same 3D design process for a shed or garage.
How To Use The Missouri 3D Shed Builder
You get to be the one who designs your storage building. You can choose how many windows your building will have, you get to choose what size and style of doors your building will come with, you get to choose all the colors for your lofted cabin, and more! You get to design with the Missouri 3D shed builder and we get to build your design for you.
The first step is to go to the Missouri 3D Shed Builder which is located in the top right-hand corner of every page on the website and choose the style and the size of the storage building you want to design. Like we mentioned earlier, we are going to choose the deluxe lofted cabin as our shed-style building and design a custom lofted cabin.
At any point in your design process, you can go back and change these. We offer lots of different styles and size options for our prefab sheds, cabins, and garages.
Choosing Your Missouri 3D Shed Builder Features
The next step to designing your Missouri-built lofted cabin is choosing the features you want. You will need to determine whether you want a single door or double door (or both depending on your building), whether or not you want windows on your building and how many, and if you are designing a prefab garage you will need to choose a rollup door.
Each of these options will allow you to truly make your shed, cabin, or garage your own. Using the Missouri 3D shed builder is a great alternative to a big box store shed like Home Depot because it allows you to completely customize your design.
Once you select and add a feature to your Missouri 3D Shed Builder design you can click the little edit icon and unlock even more options for customization. Use this feature to change things like door size and style, window insulation and windowpane options, and whether or not you need a ramp for your storage building.
Choosing Your Missouri 3D Shed Builder Colors
One of the most fun parts of designing your Missouri 3D shed is choosing the colors of the roof, siding, and trim. This is where you can really see your building become unique and special. Once you've selected all of your custom colors your 3D shed design will really feel like your own. Make sure that you try lots of different color combinations to get your design just right. Below you will see just a few of the many color combination options available to you through our Missouri 3D shed builder.
Choosing Your Missouri 3D Shed Builder Interior Options
Now that you have the outside of your Missouri lofted cabin all set up and customized it's time to go inside the building and make your custom selections. We're going to go with two lofts for our design. You can choose one or two and you can even designate what size you want the loft platforms to be.
Depending on the type of building you are designing you may have some different flooring options. If you are designing a storage garage for instance and you intend to store a heavy vehicle then you will want to make sure that you pick the right flooring material.
Your choices will show up on your design immediately. We chose an 8 ft loft for the front of our cabin and a 4 ft loft for the back so that you can clearly see the difference in size and how it will show up on your design.
Rotating Your Missouri 3D Shed Builder Design
Throughout the design process, you can rotate your building by simply clicking and dragging your lofted cabin. This is a great way to view different angles of your 3D shed design. When you do this you can make sure that you have windows or doors positioned the way that you want them on the different sides of your building.
Getting Your Free Missouri 3D Shed Builder Design Quote
Once your design is finalized and you have everything just right you can review the breakdown of your estimated shed cost, get an email with a link to your design sent to your inbox, and hit the "Submit For Quote" button to submit your Missouri 3D Shed Builder design for an official quote.
We're excited to help you make your dream shed, cabin, or garage a reality. Design your own building today and submit for a quote!