Lofted Cabins
You are looking for a cabin that is quality-built, and affordable. This cabin also needs to be spacious enough for everyone and everything. The Lofted Cabin will meet all of your needs.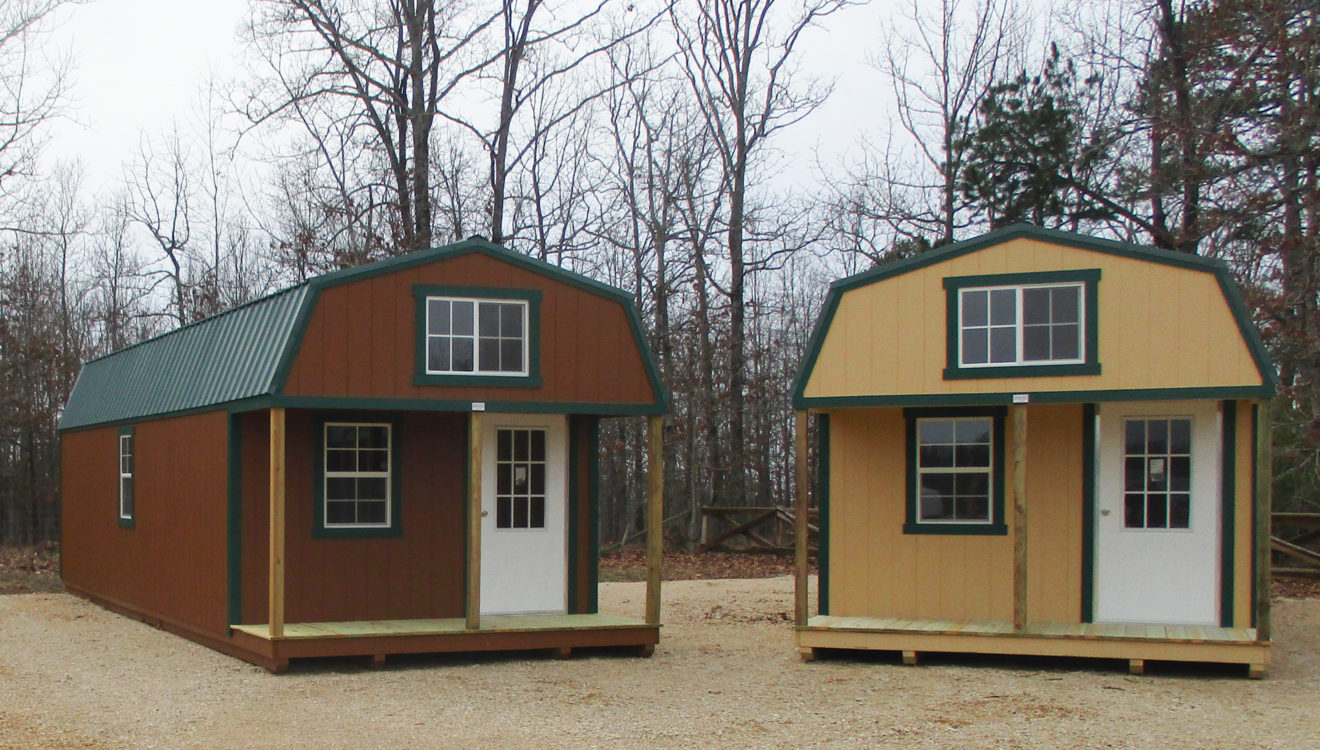 At Backyard and Beyond we believe lofted cabins should be built with quality materials, hard work, and excellent workmanship. We will deliver exactly what we promised because that is how good business is done.
How will you use your cabin?
More Space
Tiny Home
Workshop
Office
Retreat Cabin
Hunting Cabin
Guest House
Apartment
Why Do Folks Buy Lofted Cabins?
Lofted barn cabins will give you more space than the A-framed cabins. This is largely due to the gambrel roof design. The gambrel roof opens up space in the upper interior. This space is utilized with built-in lofts. These lofts could be used for extra storage space or lodging.

Also, if you compare our prebuilt lofted cabins to hiring a contractor to build the cabin onsite, you will find a significant cost discrepancy.
There are several reasons this is, but primarily because of the time that goes into onsite builds. Cabins built onsite may have many delays such as waiting for materials deliveries, weather, forgotten tools, etc.

Lofted cabins are built at a manufactory facility and delivered completed. The conditions are more controlled and there are fewer delays. We also build the lofted cabins as shells (unfinished interior). This efficiency saves you money. Now, if you want a finished a lofted cabin, we offer finishing options.
Prebuilt lofted cabins are more convenience compared to hiring a contractor to build the cabin onsite. When you buy a prebuilt lofted cabin and have it delivered to the site, you will be avoiding the construction headaches. You don't have to have your property turned into a construction site for weeks.
Cabin Features & Options

Cabin's Description
The gambrel roof on the lofted cabin is what gives it the "barn look". The Lofted Cabin sizes are from 8 x 16 to 16 x 40.
Two 4' Lofts – One at Each End
Cabin Includes a Porch on the End
Four 2' x 3' Insulated Double Pane Windows
One 36" 9 Light Insulated Entrance Door
Optional Porch Railing

Prefab Cabins Options
The lofted barn cabin comes with a metal roof. You have the option to upgrade to shingles. Metal and shingle roofs are available in several colors. You can choose where you would like your windows.
You can choose two colors for the lofted cabin: one for the walls and a second for the trim. We have various color options in both paints and stains.

Delivered
Our lofted cabins are built locally in Ellsinore, MO, and delivered by our drivers. We invite you to visit one of our sales lots to see firsthand the quality of our work. We would love to walk you through and answer any questions you have. We want you happy with your purchase more than we want to sell you a lofted cabin. We deliver up to 50 miles from any of our dealers.

FINANCING OPTIONS
Everyone should be able to afford quality; this is why we offer the Rent-to-Own option on our cabins, garages, and sheds.