Lofted Barn Shed
Spacious Storage Barns
You probably need more storage space, so you are considering a storage barn. You likely want the storage barn to be quality built at an affordable price. But, who can you trust? We are your local company in Missouri. Here at Backyard & Beyond, our values are built on integrity, quality, and reliability.
Lofted barns provide more storage space than other models. With the gambrel roof, there is plenty of space for a loft. This loft will increase the storage capacity, making your life a lot easier. These storage buildings not only provide you with the standard storage space that comes with any of our sheds, but we've added a lofted feature that maximizes the overhead storage space.
Looking for more structures for your farm? Check out our Run In Horse Barns and some benefits of them.
How will you use your Lofted Storage Barn Shed?
Storage barn
Store lawn equipment
Store bikes
Store boats
Store wood
Shop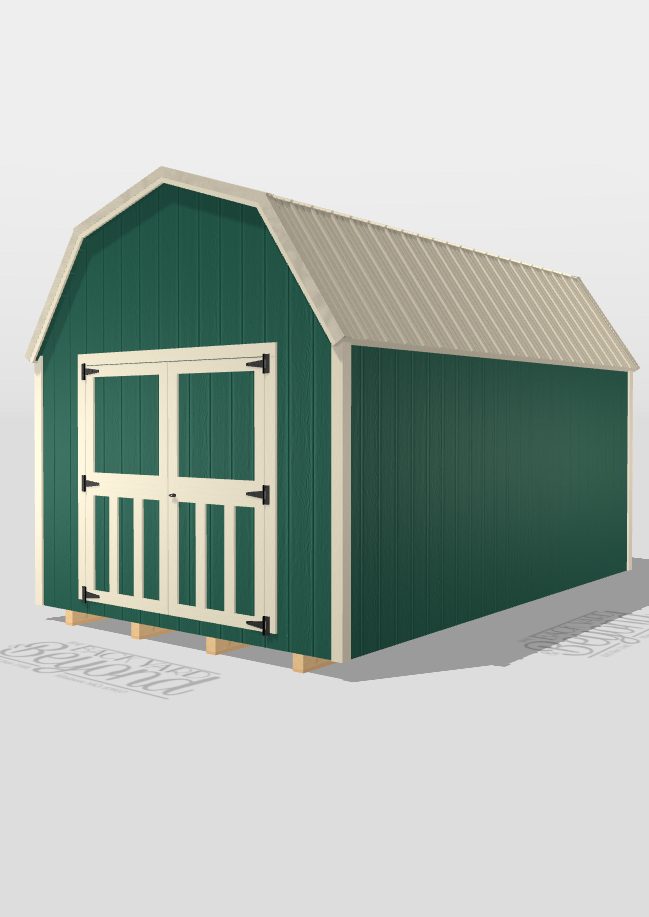 Design Your Lofted Barn Shed for FREE
A Lofted Barn Shed could be what you've been looking for, if you need space and are ready to make a great investment to solve your storage needs, then choosing Backyard & Beyond's Lofted Barn shed is the right move for you. Easily use our 3D Shed Builder to design your Utility shed today. You will be able to customize all sorts of things about your Lofted Barn shed, from colors to the actual construction materials. Getting the perfect storage Lofted Barn shed to fit your specific needs is simple and fun.
Why Do Folks Buy Lofted Barn Sheds?
The Lofted Barn Shed is the storage shed you want when you want lots of space. You can add additional windows and doors where you need them.

Lofted Barn Sheds provides more space than the traditional A-frame structures. The design of the roof is also known as a gambrel roof, and it opens space above. This additional space doesn't take up any more property. The lofts will clear a lot of floor space too. If you prefer a high ceiling in your shed, then don't include the lofts.

Not only is the Lofted Barn Shed more spacious, but it is also built with the quality of workmanship you should expect from shed builders. Here at Backyard and Beyond, quality comes first, so you know you are getting the best quality at the lowest price.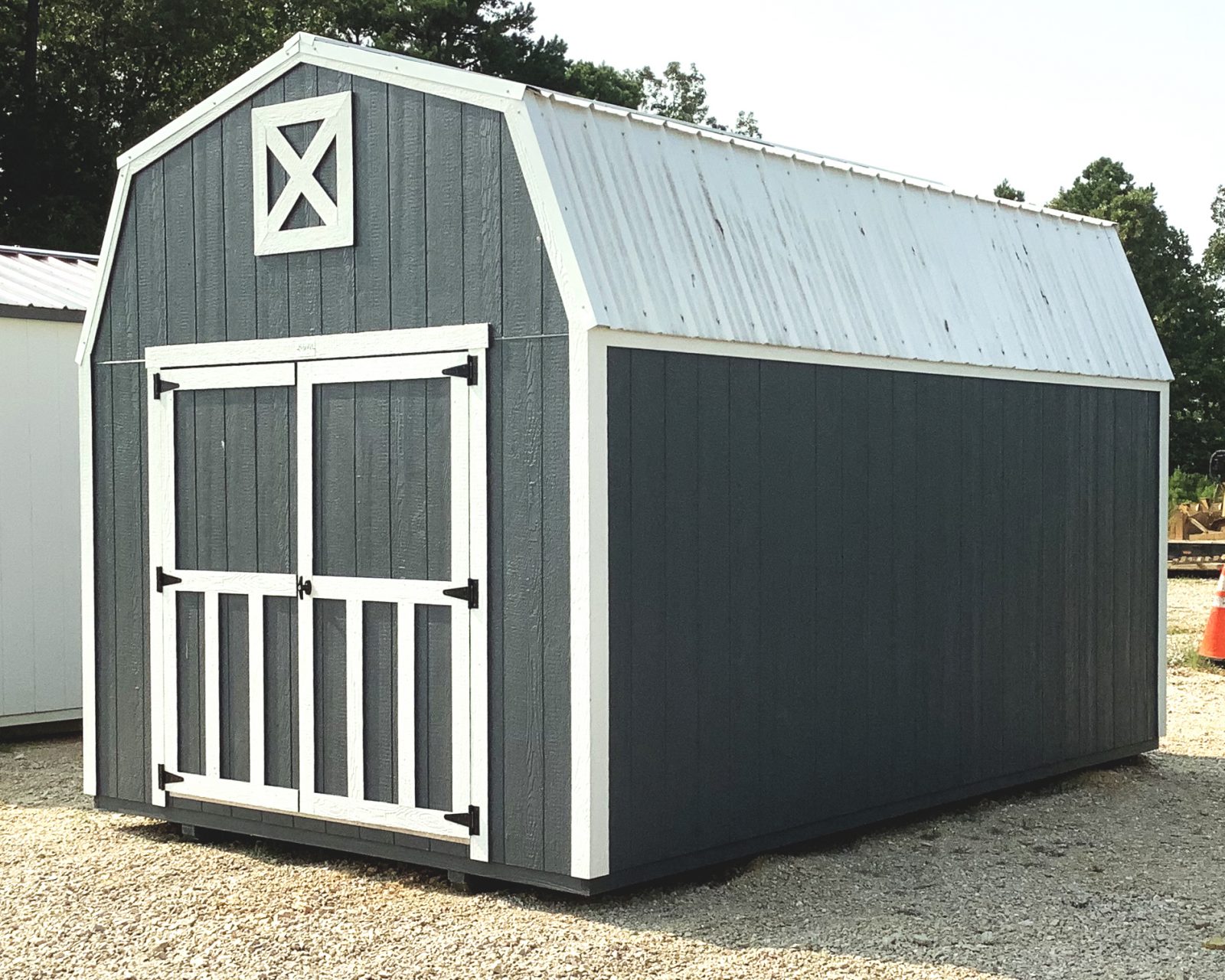 Lofted Barn Shed Delivery in MO & AR
With our custom hauling equipment, we can deliver lofted barn sheds and other prefab buildings to Advance, Cape Girardeau, Dexter, Doniphan, Poplar Bluff and other towns throughout Missouri. We'll even deliver prefab storage sheds to the surrounding areas in MO!
We'd love to help you create the perfect Lofted Barn Shed for your needs. To get started, just give us a call or request a free quote. Let's get you the shed you need!
Lofted Barn Shed Includes:
4′ Loft space at each end
76" Sidewalls
6′ Double Doors
Sizes Available:
8×12
10×12
10×16
10×20
10×24
12×16
12×20
12×24
12×32
12×36
12×40
14×32
14×40
Lofted Barn Shed Optional Features:
Ridge Light (approx. 12 in. wide x 10 ft. long section of clear light panel)
12-inch Square Gable Vent (painted to trim color) in rear gable end in loft area
6 ft. wide x 4 ft. deep ramp for easier access into the building with lawn equipment
2 ft. wide x 3 ft. tall Windows
Shelves or a Work Bench on the side or on the back wall
A standard 36-inch house-type door may be substituted for the shed doors
Start by requesting a free quote for your Storage Barn. It starts with a click, then you will fill out the form, and some contact information, and that's all it takes.
Utility Shed Features & Options

Shed's Description
The Lofted Barn or storage barn with a loft includes a door at the end. This is ideal if you have something like a kayak or dinghy boat where taking it in through the end would be better than a side entry.
This model does not include windows, but if you want to add windows, we can easily do that for you.
Lofted Barn Includes:
4' Lofts at each end
76" Sidewalls
6' Double Doors

Utility Sheds' Options
Lofted Barns come standard with metal roofs. You have the option of a shingles upgrade. You also have several color options. As stated above, windows come with this model, but you can select where you would like the windows. If you don't need the windows, then take a look at the Utility Shed option. Some folks upgrade to a snake and rodent-resistant door.
Click below to download our FREE Price List to learn about other options.

Delivery
Our storage barns are built locally in Missouri and delivered by our drivers. Because we are a local company, we give you personal and professional attention from your initial visit to the delivery of your storage barn. Satisfied customers are our best advertisements. This means we want you completely happy with your storage barn, and we will deliver everything we promised. We will deliver up to 100 miles from any of our dealers.

FINANCING OPTIONS
Everyone should be able to afford quality; this is why we offer the Rent-to-Own option on our cabins, garages, and sheds.