The Backyard & Beyond is your local Versailles, Missouri, prefab horse barns manufacturer. We're happy to answer any questions you have and help you find the right horse barn for your needs. Your horse barn will be built with quality materials and workmanship. Being satisfied with your horse barn is paramount because that's good business. We are honest and care about our customers.
What are the benefits of a horse Run-in Shed? Read our blog to find out!
Prefab Horse Run-In Shed Building Specifications:
Available in 10, 12, and 14 ft. wide and up to 40 ft. long.
4×6 MCQ Treated Perimeter Beam
2×4 construction with side nailers notched into the studs for more floor space and a more professional look.
Studs and Rafters are all plated together with steel plates for strength and a more professional look.
Lined with oak kickboards for livestock protection.
It has a 1 ft. 6 in. boxed eave soffit on the side to divert the elements away.
40-year paint warranty on the metal. 23 colors to choose from (your choice, no extra charge)
Why Do Folks Buy Prefab Horse Barns?
If you're comparing horse barns, you already know that not all horse barns are the same. Why do some people buy a prefab horse barn? There are two primary reasons.

First, prefab horse barns are more affordable than contracting an onsite build. We build our horse barns under more controlled circumstances, which allows us to develop a more efficient process. This save us time and your money. Also, we build our horse barn as shells with the option of a finished interior.

Another reason folks buy prefab horse barns is they don't want the headaches of the construction process. Prefab horse barns are completed before delivery so when it arrives it will be ready to use. Take a look at a few examples of our prefab horse barns below.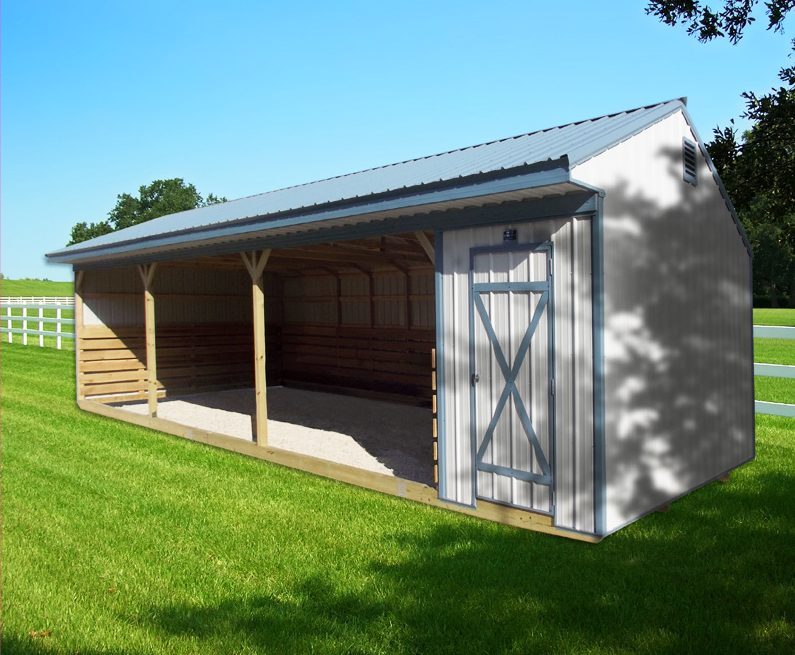 Prefab Horse Barns For Sale in Missouri
With our custom hauling equipment, we can deliver prefab horse barns and other prefab buildings to Blytheville, Jonesboro, Osceola in Arkansas, and Advance, Cape Girardeau, Dexter, Doniphan, Poplar Bluff, Silva, and other towns throughout Missouri. We'll even deliver prefab storage buildings to the surrounding areas in MO!
Provide your horses with a safe and secure run-in horse shed. Our horse shelters are an attractive way to provide year-round shelter for your animals.
We'd love to help you create the perfect horse barn for your needs. To get started, just give us a call or request a free quote. Let's get you the horse barn you need!