Ultimate Guide for 10×12 Sheds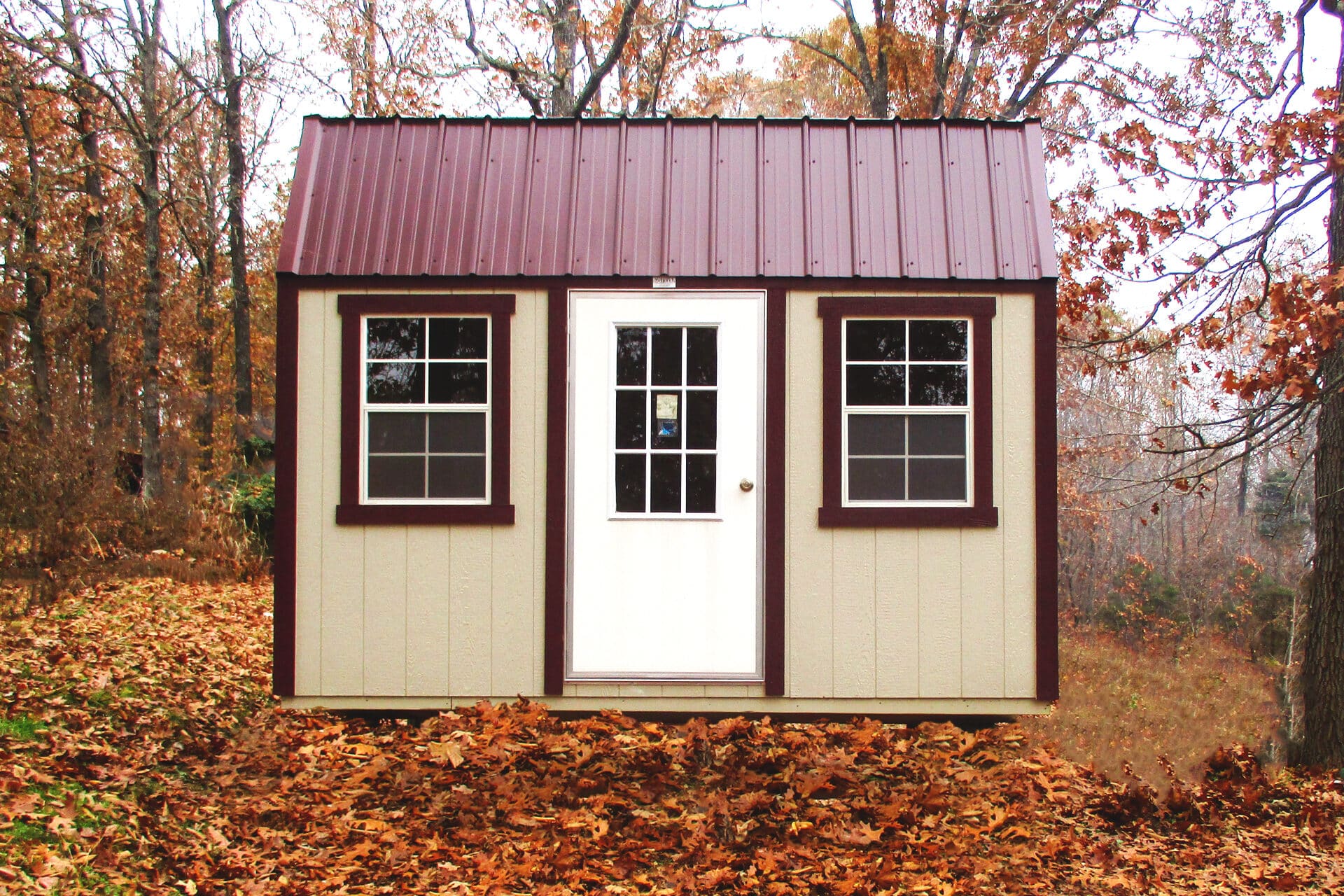 Are you frustrated with the stuff lying around in your house? And overwhelmed with too many things to store and not enough space? What you need is a place to store everything. The perfect solution could be a 10×12 shed that will make your backyard and house look organized and beautiful again. There are a lot of things to consider when purchasing a 10×12 shed for your property, we're here to help you make the right decision. We've got answers to the most commonly asked questions about the 10×12 shed.
What Is A 10×12 Shed?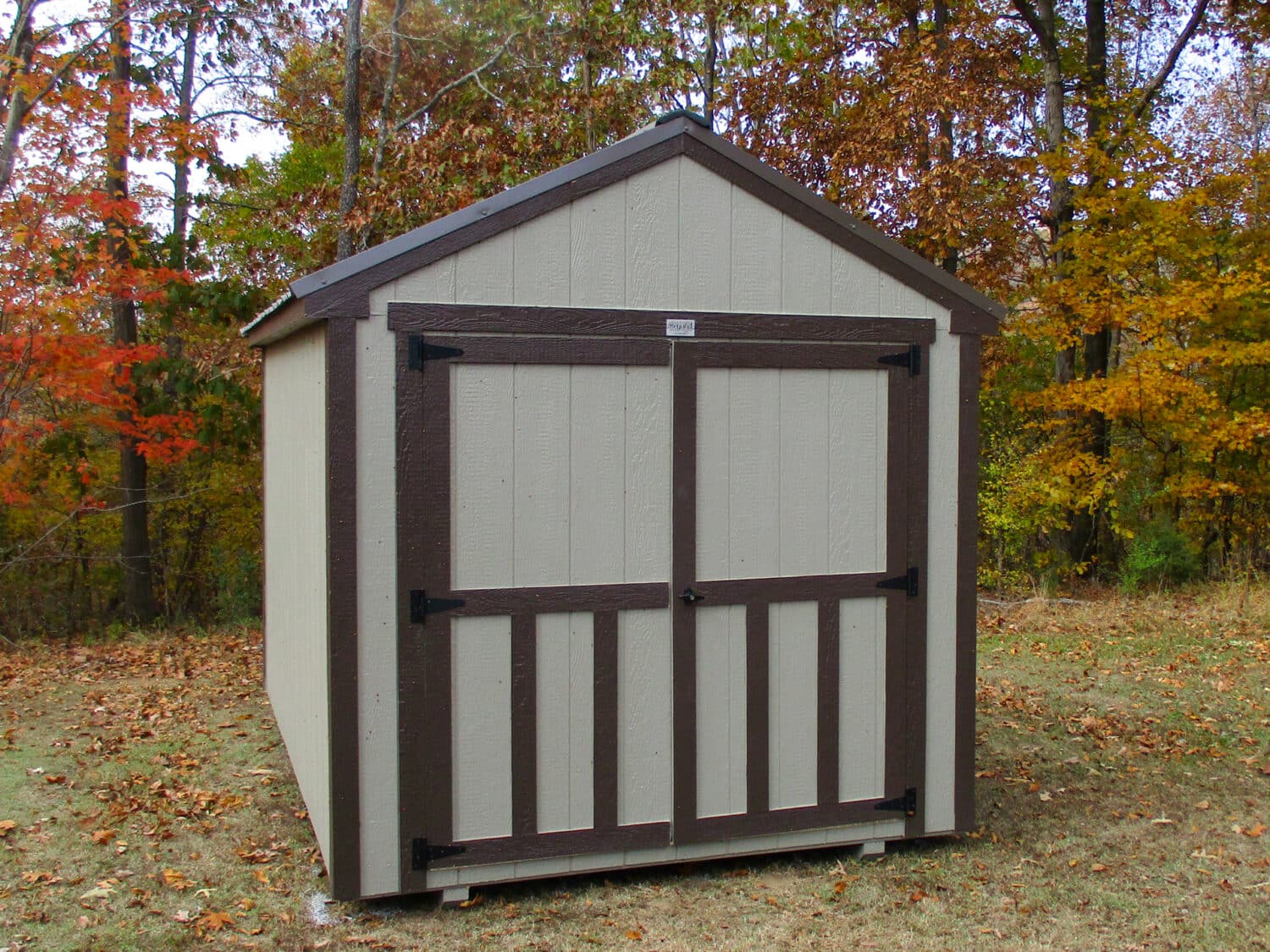 A 10×12 shed is ideal for keeping one large object, such as a mower, ATV, or motorcycle, as well as smaller tools and items. Adding shelves and/or a loft to your 10×12 shed will allow you to store smaller items vertically, freeing up floor space for larger equipment.
DO I NEED A PERMIT FOR A 10×12 SHED?
One of the most important factors is size. In Missouri, for example, a storage shed that is less than 120 square feet requires only zoning permission, even though a shed that is larger than 400 square feet usually requires both a zoning permit and a construction permit. If you do require permission, keep in mind that there is a fee for each permit, which is normally determined by the project's cost. This charge may be collected when you submit your application or after the permit is issued, depending on your municipality. In some regions, a nominal price for filing will be required, with the remainder due when the permit is approved.
WOULD BUILDING A 10×12 SHED SAVE YOU MONEY?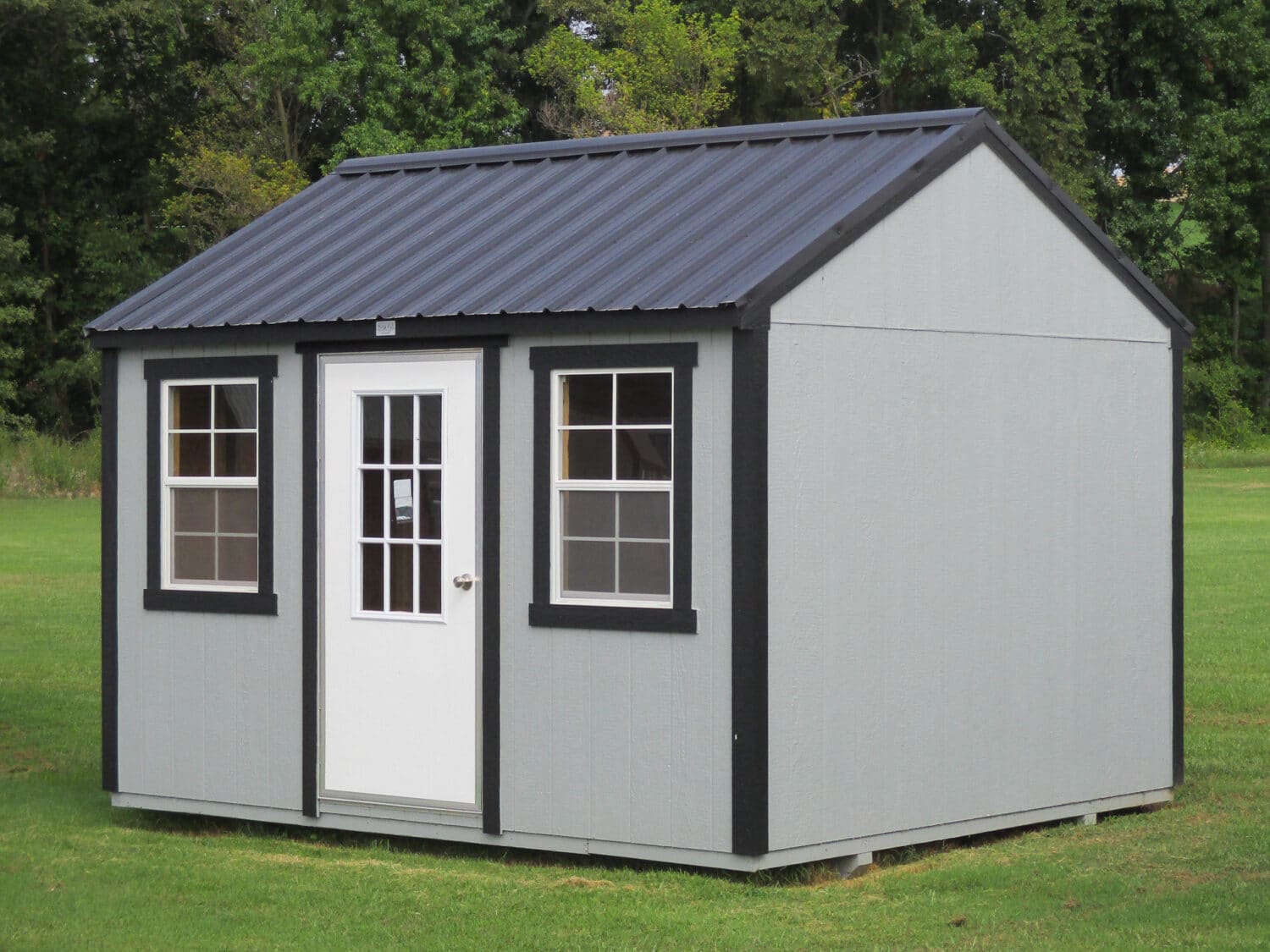 Yes, you can save money by building your own 10×12 shed. Building your own storage space can save you money, but buying one will save you time. It all depends on how valuable your time is to you. You will need a lot of time to construct a shed on your own. Consider how long it would take you to learn everything you need to know about constructing a shed. Then you'd have to go out and purchase all of the necessary building materials, paint, and lay your own foundation. The point is that building your own shed is a huge project that should not be undertaken lightly.
WHAT CAN YOU FIT IN A 10×12 SHED?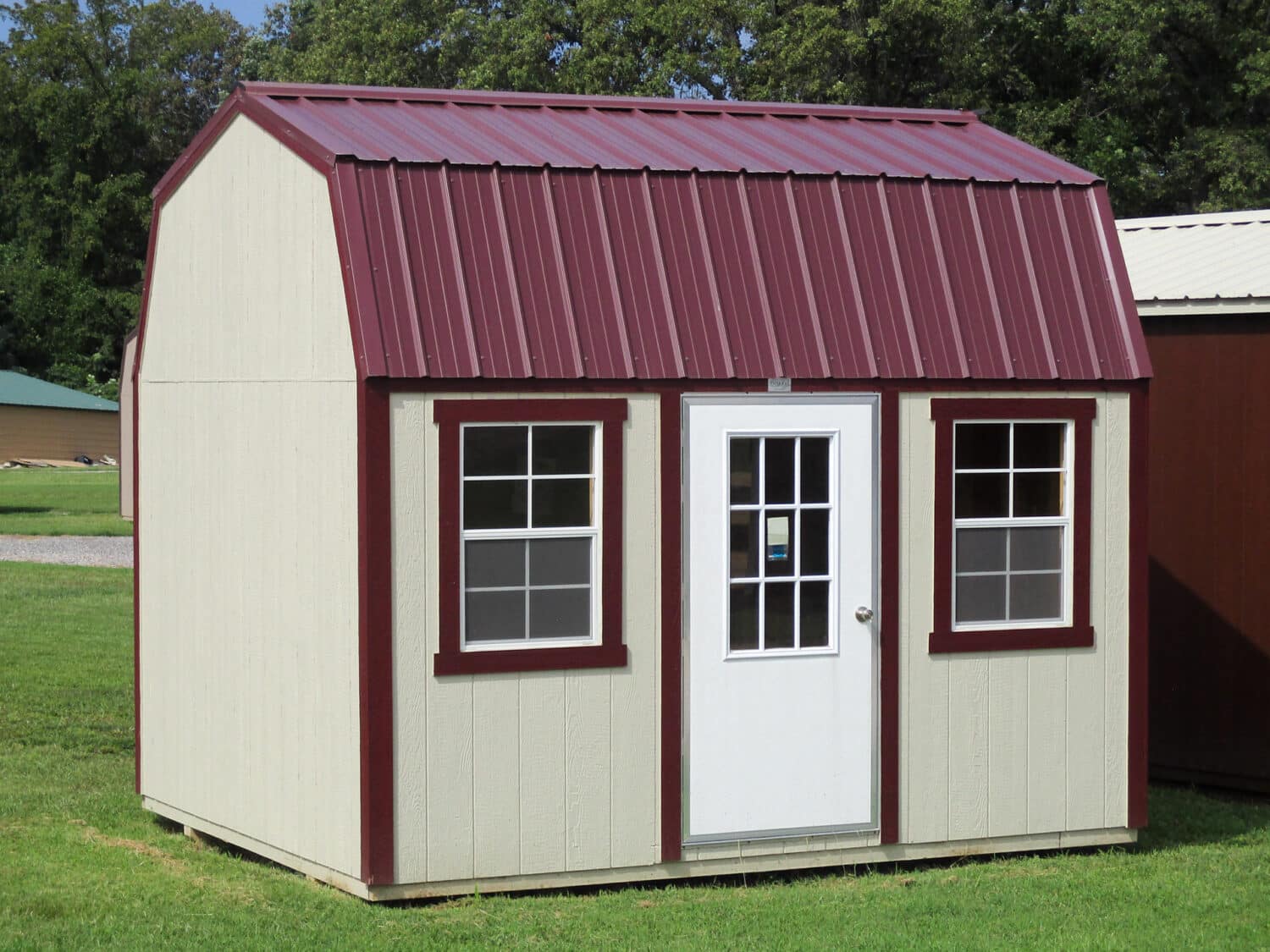 A 10×12 shed is on the smaller side of the storage shed size scale. Despite this, it has enough space to store not just your riding mower, but also your garden tiller, push mower, and power washer. If you want to store heavy things in your shed, such as your riding mower, you may want to consider installing a shed ramp. You'll have plenty of place for tools with a little preparation and arrangement of wall space.
We Feature 5 Different 10×12 Shed Styles:
Each of our 10×12 shed models has its own unique features. You'll discover one that suits your needs below. You may always use our 3D Shed Builder to create your own custom 10×12 shed if you don't like the designs below. Here are a few shed designs that are usually produced in 10×12 measurements: Utility Sheds, Side Utility Sheds, Lofted Barn, Side Lofted Barn, and Carolina Barn.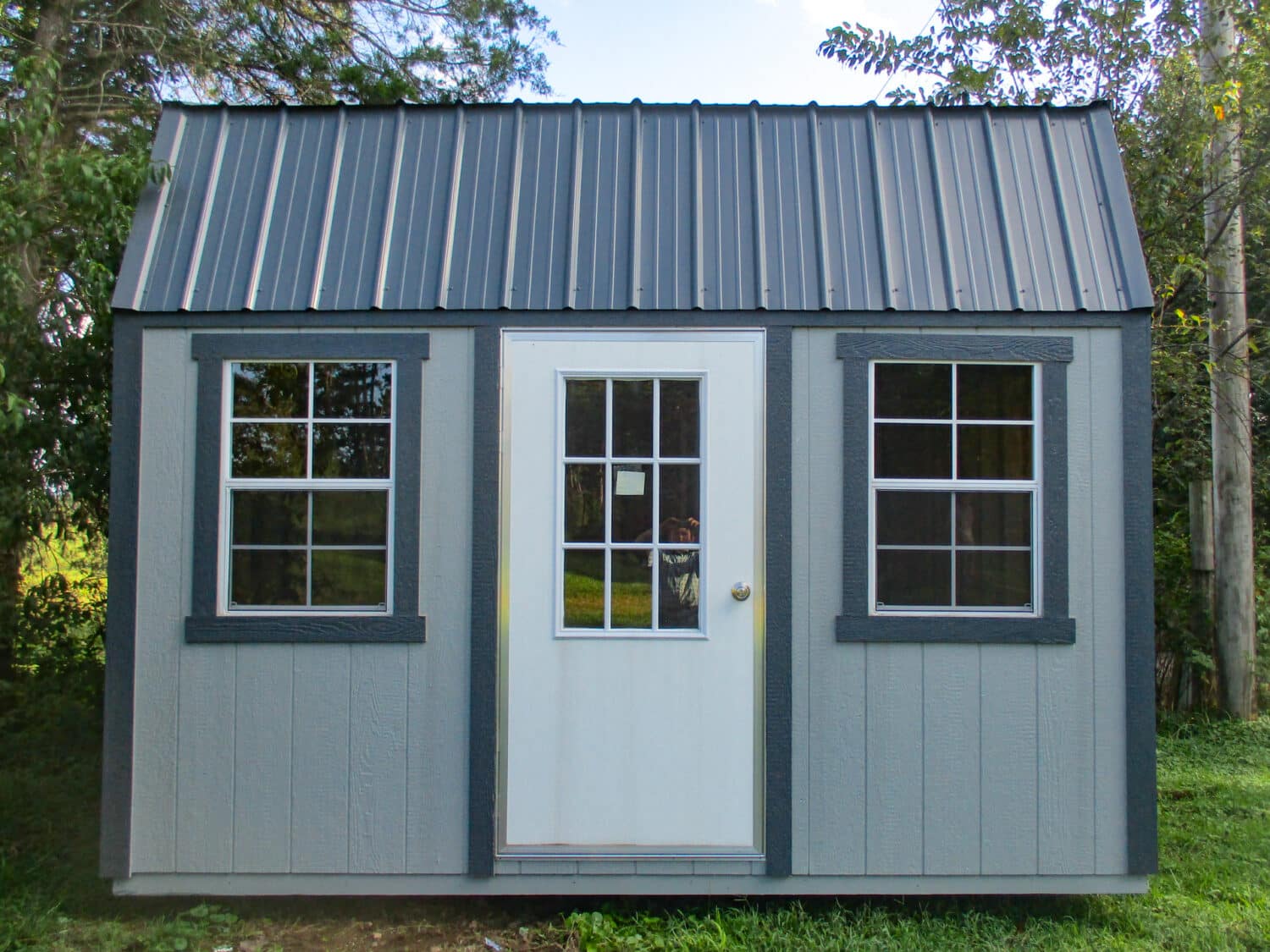 The Utility Sheds are The Backyard and Beyond's smallest storage sheds, and they come in three different styles: LP SmartSide, metal, and wood. The Utility Shed can be utilized for a variety of storage needs. Whether you need a space to set up a workshop or a place to keep something as large as a U.T.V., these utility buildings are ideal.
The doors to this storage shed are on the side. It offers the installation of twin doors. All of your lawn care equipment and tools will fit perfectly in one of our Side Utility Sheds. This storage shed includes windows that will let in natural light to increase the storage shed's quality and comfort, as well as offer light in the morning. Above all, it will keep your belongings safe and dry.
The Lofted Barn storage shed door is at the back and does not include windows as normal. If necessary, windows can be added. These storage facilities not only have the regular storage space that any of our sheds have, but they also include a lofted feature that maximizes the storage space with the extra overhead storage space.
The Side Lofted Barn is similar to the Lofted Barn, but it has windows and doors on the longer side. Because of the two windows, the Side Lofted Barn will provide you with maximum natural light. This Side Lofted Barn is one of our best storage buildings because of its sturdy construction, appealing design, and availability of natural light. The windows are often located on both sides of the door, however, they can be placed wherever.
The Carolina Barn is a charming storage barn with a wooden frame and a metal exterior. This large storage shed is ideal for anyone looking for a one-of-a-kind design with a pleasing appearance.
Does My 10×12 Shed Need a Foundation?
Yes, any 10×12 shed requires some sort of foundation. Smaller sheds (up to 6×8) usually do not require a foundation. Gravel can be used to support medium-sized sheds. Large sheds will require a solid base, such as a concrete pad. If your shed has a built-in floor, the gravel base should be 2 feet long and 2 feet wider than the shed itself. Water will not accumulate on a gravel foundation since any rainwater will drain through the stones, preventing rotting wood.
How Much Does a 10×12 Shed Cost?
Depending on the different options available with the shed. Adding a lofted space, for example, can increase the cost while also providing additional storage space. For more natural lighting and air circulation, you can add extra windows and doors to your shed. You should also consider the exterior alternatives that could change the appearance of your shed.
WHAT ARE THE EXTERIOR OPTIONS FOR A 10×12 SHED?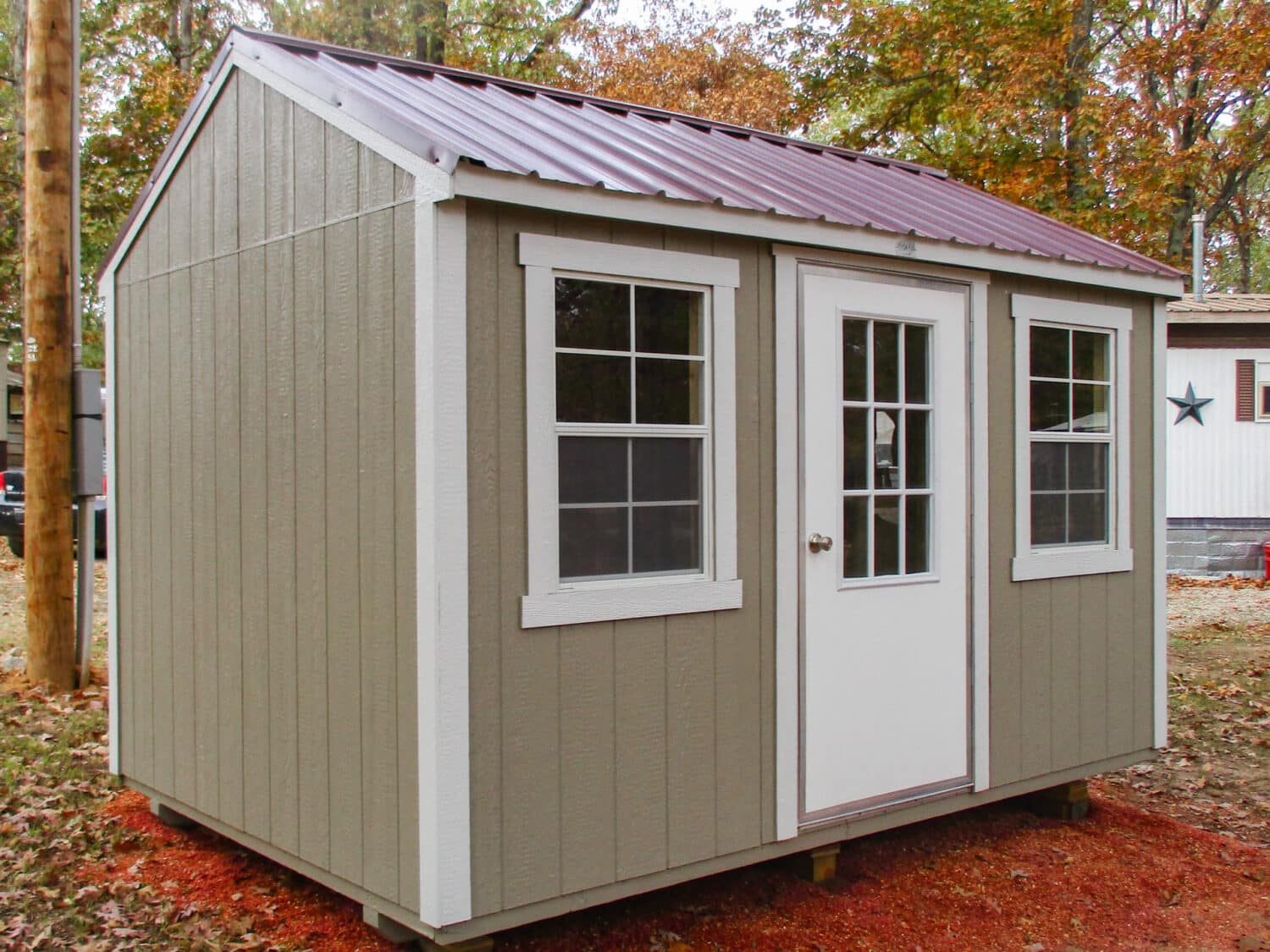 Wooden sheds, LP SmartSide sheds, metal sheds, and vinyl sheds are some of the exterior options.
10×12 Wooden Shed will give you the space you need with a bit of light coming through the window. With this shed, you get two vents and a double door for easy access.
10×12 LP SmartSide shed is a long-lasting structure that will last you for years. While others are replacing their sheds, you will appreciate the fact that yours is still standing.
10×12 Metal Shed can provide you with increased security. With strengthened hinges that help prevent forced access. Metal sheds are more long-lasting and require less maintenance.
10×12 Vinyl Shed is a tough shed that can withstand any weather. It usually has one or two windows for natural sunlight and ventilation. You'll want to spend more time in this shed than in your house.

FINANCING OPTIONS
Everyone should be able to afford quality; this is why we offer the Rent-to-Own option on our cabins, garages, sheds, animal structures, and greenhouses.