12×16 Cabins: Everything You Should Know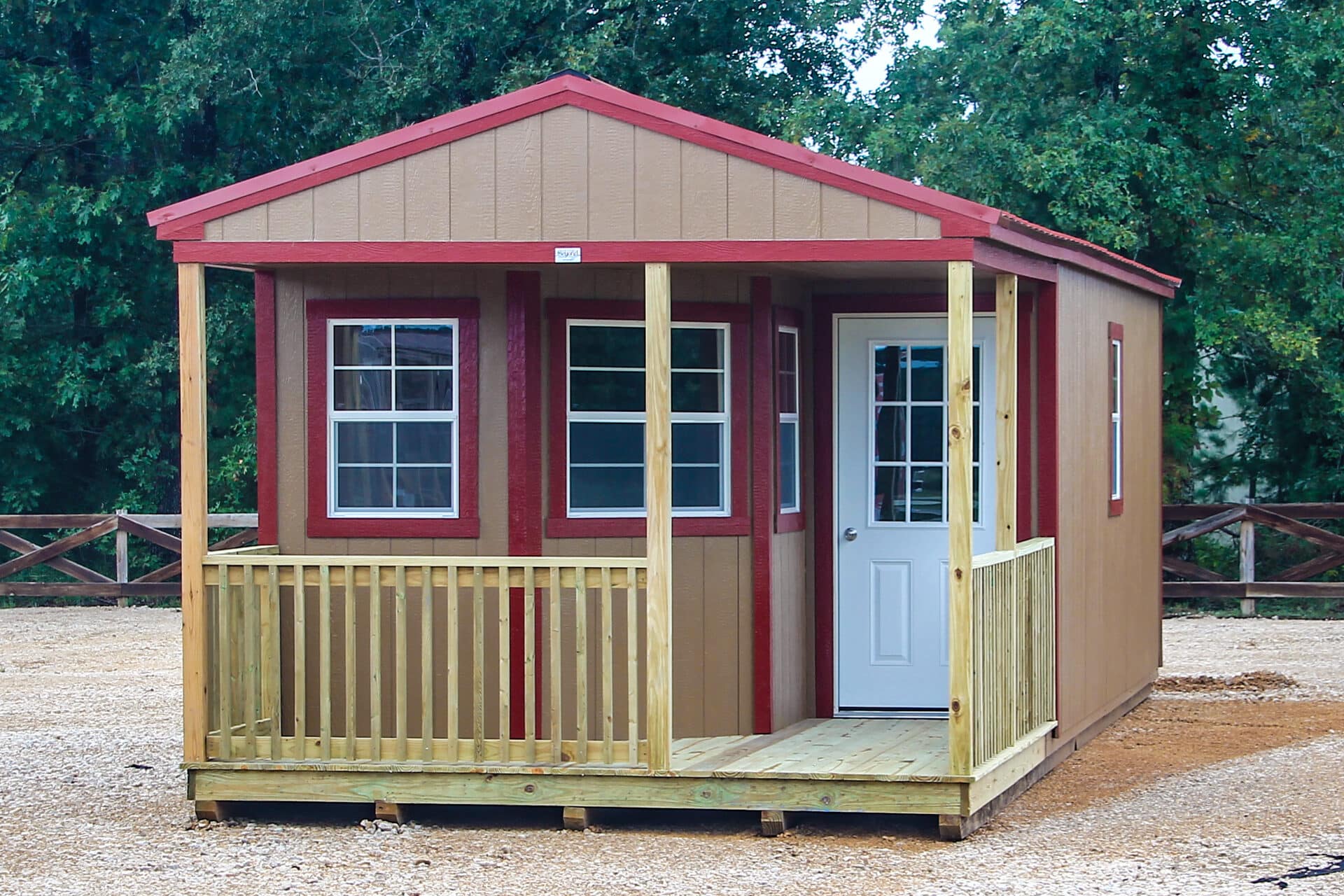 Are you looking for a prefab cabin to enjoy after a long day of outdoor activities and sports that get you away from technology into the present moment? And you've decided on a 12×16 cabin as your possible option. But, before you order your prefab cabin, let's look at a few things to be sure you won't wish you ordered a larger one when it arrives.
How Many Square Feet Is A 12×16 Cabin?
You could believe that 192 square feet are the obvious choice, but you could be mistaken! The actual interior space of a 12×16 cabin may occasionally be 180 square feet or less!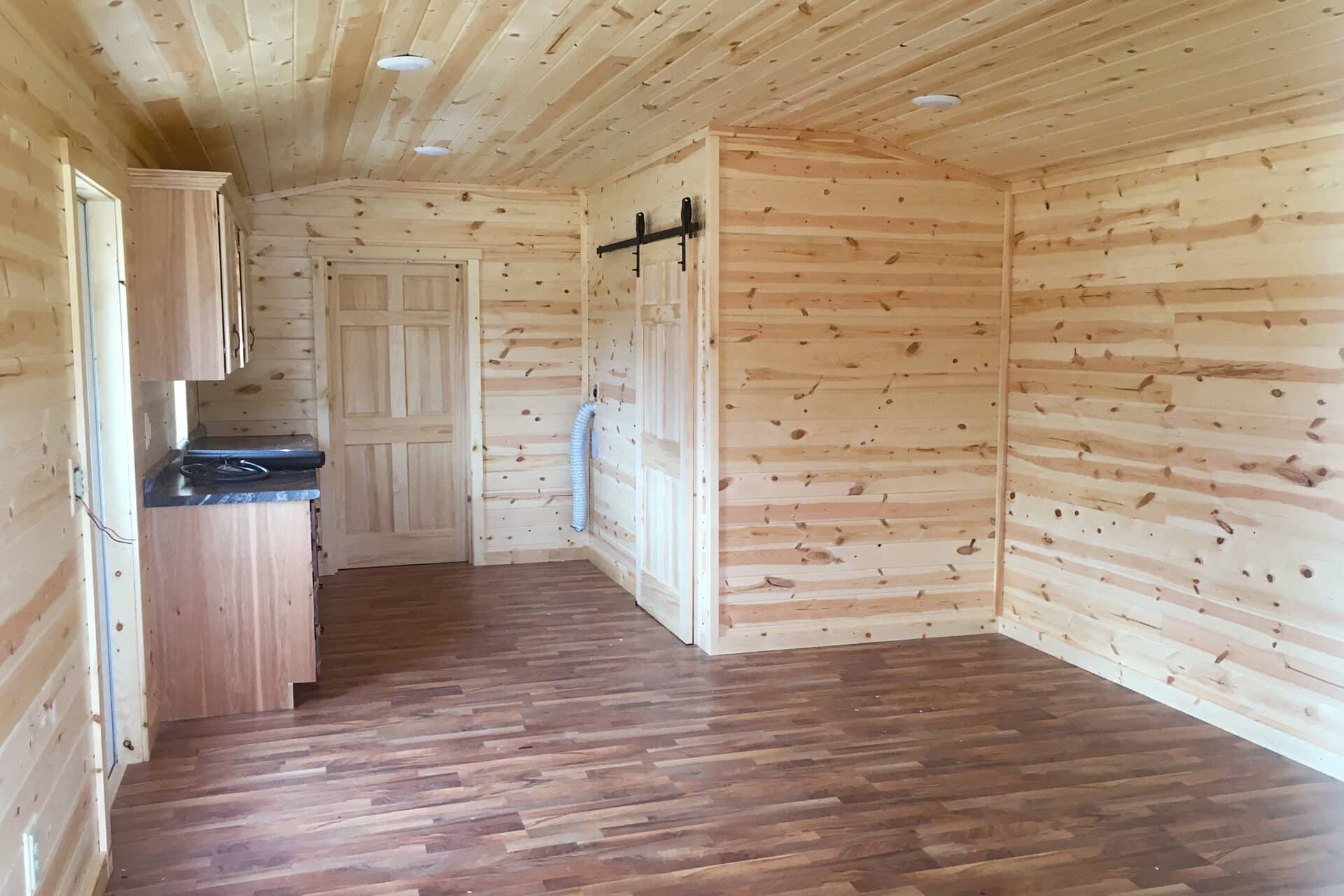 Some businesses advertise their building size using "nominal size." You can get a better picture of how much square footage the cabin is giving by taking nominal size measurements from the roof edge to the roof edge rather than from the building corners. In other words, a cabin with 5″ eave overhangs can advertise as 10′ wide but actually measure 9'2′ from corner to corner. Make sure to find out how the buildings are measured by your cabin provider! (At Backyard & Beyond, all of our structures are measured from corner to corner. You will lose around ¾" from the plywood/siding and another 3½" from the studs if your cabin is built with 2x4s. In the end, a 12 by 16 cabin with 2×4 walls often has a storage capacity that is closer to 180 square feet.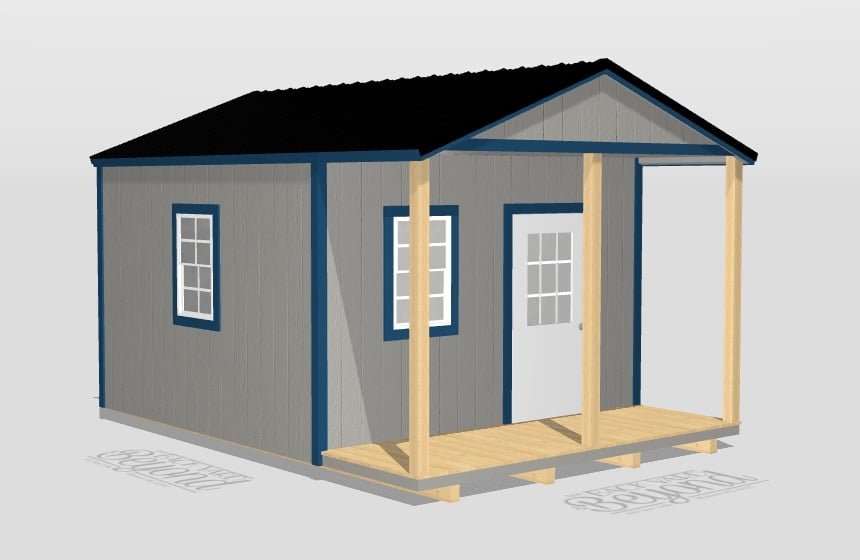 Is A 12×16 Cabin Big Enough?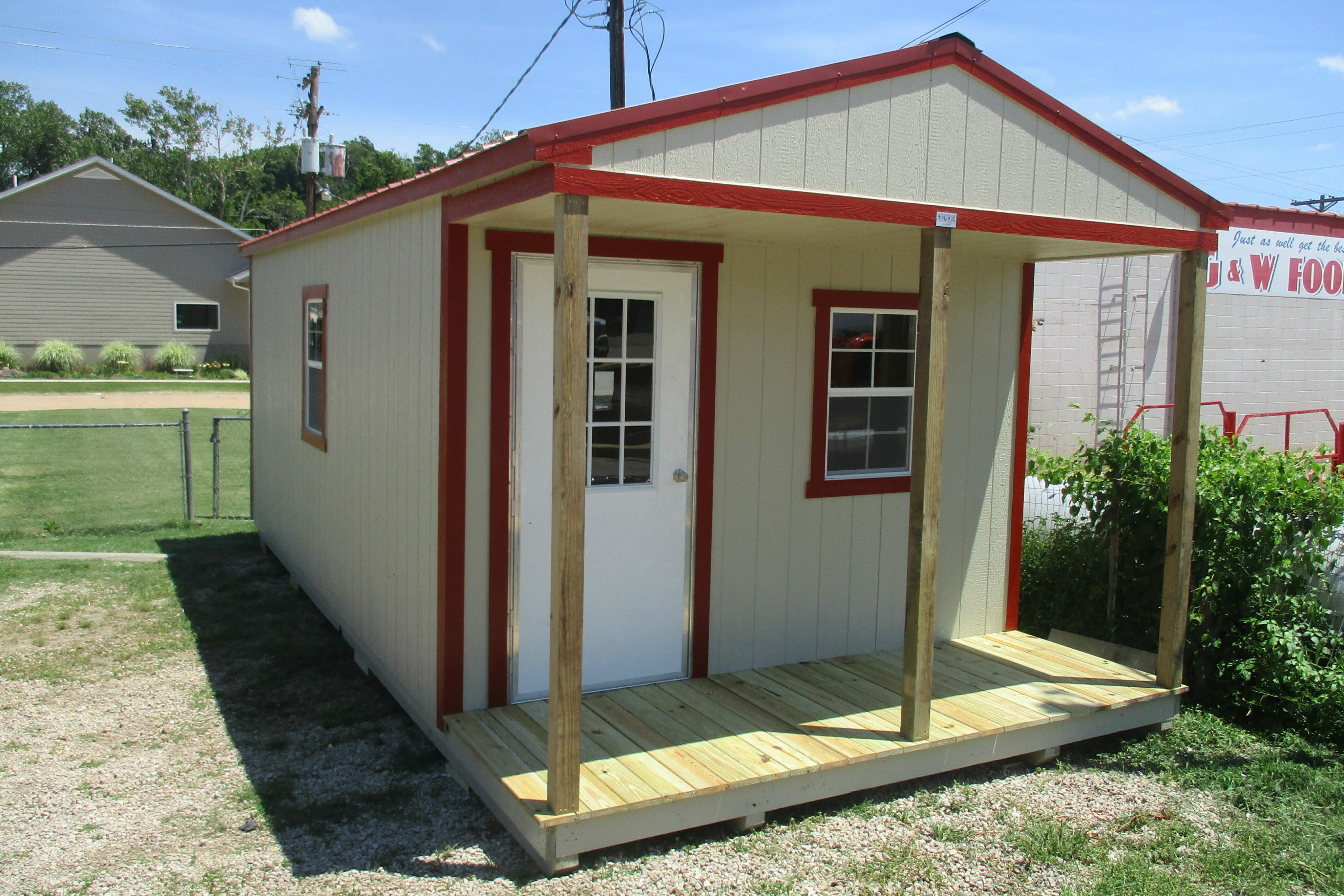 The appeal of 12×16 cabins is that they offer a lot more space while still fitting into yards with less space. But can you fit all of your storage needs in a 12 by 16 cabin?
Well, that depends on your storage requirements! A 12 x 16 cabin, for example, has enough space for a wheelbarrow, a riding lawnmower, a push lawnmower, a snowblower, and numerous stacks of storage boxes. This only provides you with a broad concept because, obviously, your own storage needs may differ.
What Can You Fit In A 12×16 Cabin?
You have plenty of area for long objects, such as kayaks, canoes, long ladders, etc., thanks to the 16′ depth. This is a great fantastic size if you are a craftsman or woodworker. There is plenty of space to utilize as a workspace while still leaving room for materials and tools to be stored.
A typical 3-seat sofa will occupy 21 square feet, whereas a typical armchair will occupy 9 square feet. There would still be 150 square feet available for extra furnishings like a TV, coffee table, and area rug.
Is It Cheaper To Build A 12×16 Cabin Or Buy A 12×16 Cabin?
Building your own 12×16 cabin could potentially result in financial benefits. Building your own 12×16 cabin is typically a little less expensive (if you do not factor in your time.) The key question is whether the money you'll save will be sufficient to warrant taking the time and trouble to do it yourself.
For a little under $7,000, you may buy the supplies to create your own 1216 cabin if you have the required equipment and abilities (in 2022). The cost and effort involved in building your own cabin from the ground up, as opposed to buying one that has already been built, is the trade-off.
How Much Does It Cost To Buy A 12×16 Cabin?
Let's compare the DIY project to Backyard & Beyond's 12×16 cabin prices. We sell roughly $7,699 for prefab 12′ x 16′ cabins similar to the DIY version shown above (in 2022). This means that compared to just the supplies to build it yourself, a prefab cabin from the Backyard & Beyond would cost you roughly $699 more.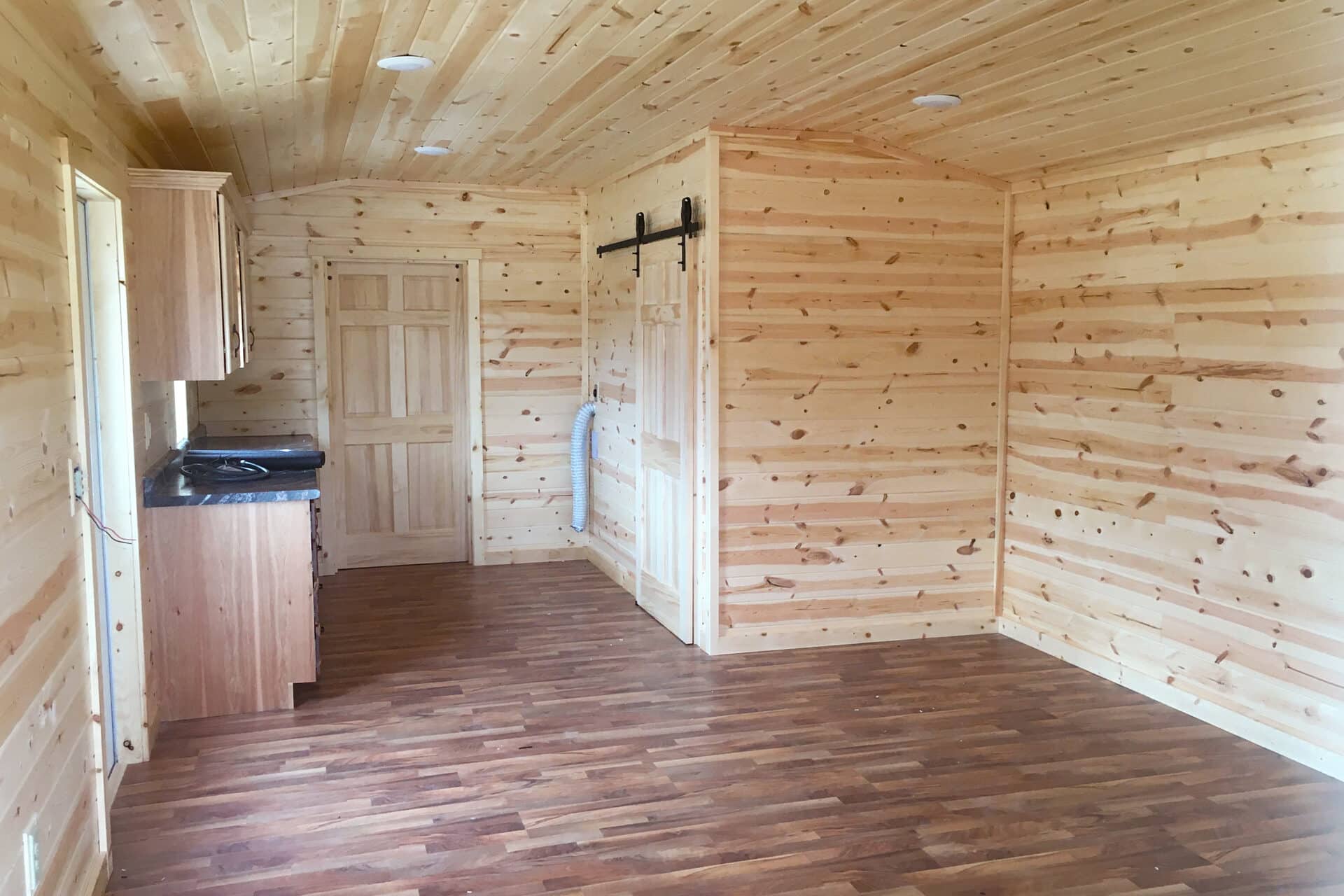 If a pre-built 12×16 cabin costs only slightly more than the materials to build it yourself, the cabin companies must be cutting corners somewhere, right? Not necessarily…
Professional cabin builders save money in several ways, such as buying materials in bulk and working efficiently. The majority of cabin manufacturers buy lumber by truckload. We can spend a lot less money by buying in bulk than a DIYer would if they bought the same supplies from a retail home improvement store. And when it comes to efficiency, cabin builders build cabins for 40+ hours a week…so we're pretty fast at it! Cabin manufacturing shops are set up to maximize efficiency, too. We have professional-grade tools within easy reach, and we know how to use them! A professional builder can construct a 12×16 prefab cabin in 7-8 hours!
Does A 12×16 Cabin Need A Foundation?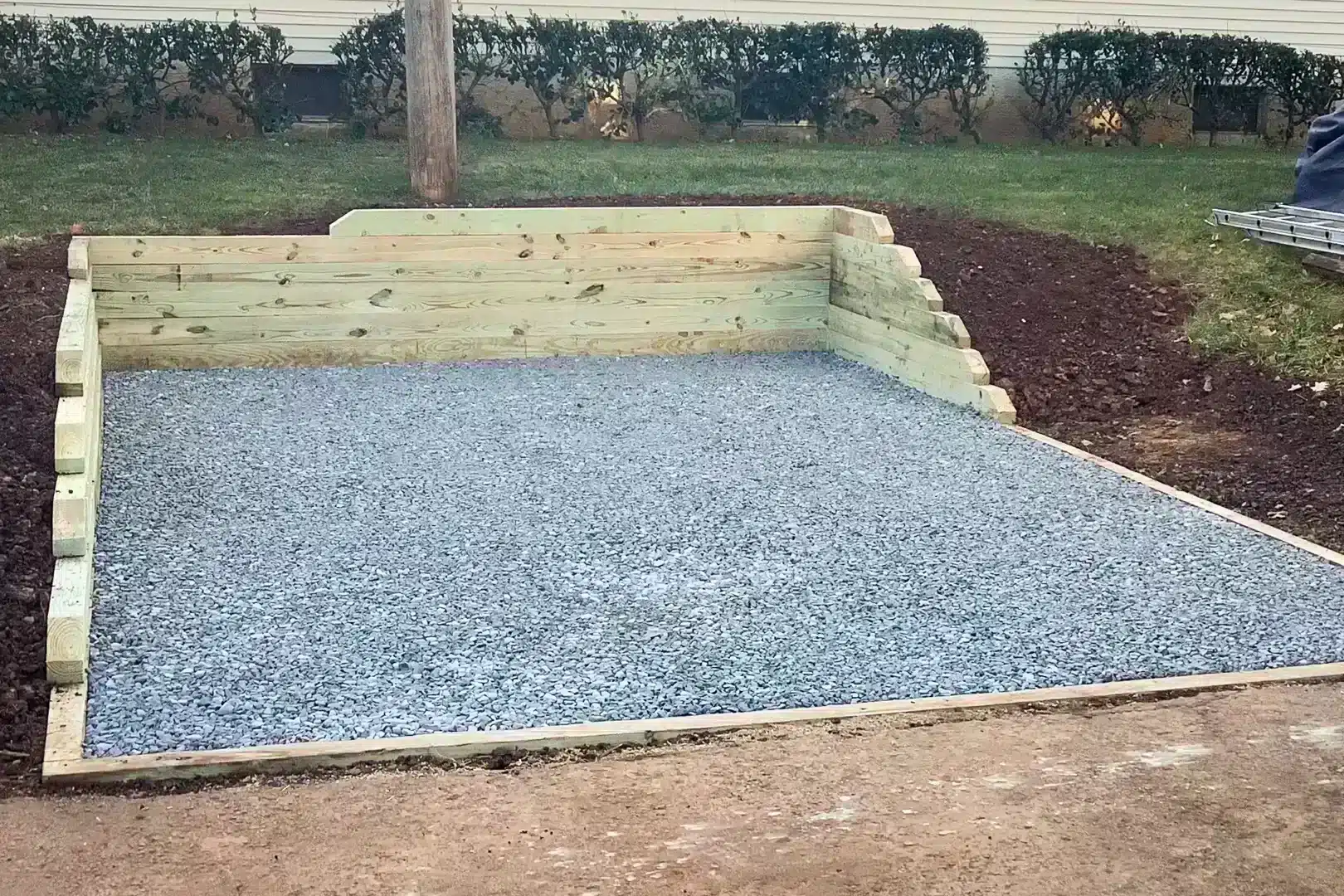 Yes, any 12×16 cabin needs to have some kind of foundation. Generally, smaller buildings (up to 6×8) do not need a foundation. Medium-size buildings can rest on gravel. Large cabins will need to have a strong foundation, like a concrete pad. If your cabin has a built-in floor, you want the gravel foundation to be 2ft longer and 2 ft wider than your cabin. A gravel foundation will prevent water from accumulating because any rainwater will drain through the stones, which prevents rotting wood. Check out the foundation options.
Preparation For Your 12×16 Cabin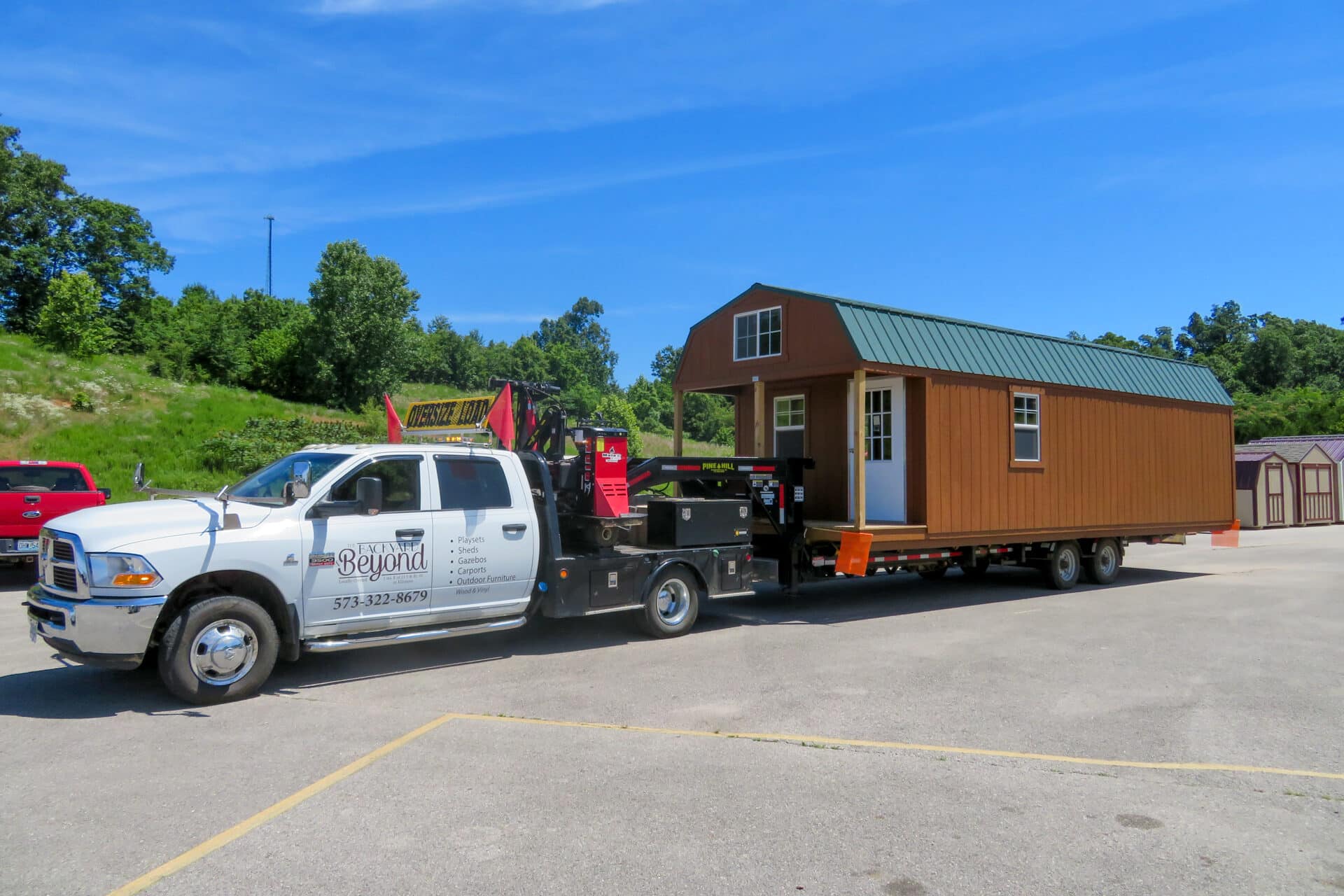 Meanwhile, as your 12×16 cabin's exterior details come together, let's bring your Cabin home! Below are the preparation steps.
Choose your Prebuilt building's location and mark it.
Prepare the site by removing any debris, brush, or trees blocking the way of the delivery truck.
Prepare a foundation, such as concrete foundation blocks. * If you prefer, these concrete foundation blocks will be available for direct purchase and installation on the day of delivery.
Sit back and watch your prefab building strategically and professionally placed in its designated location.
What Are The Exterior Options For A 12×16 Cabin?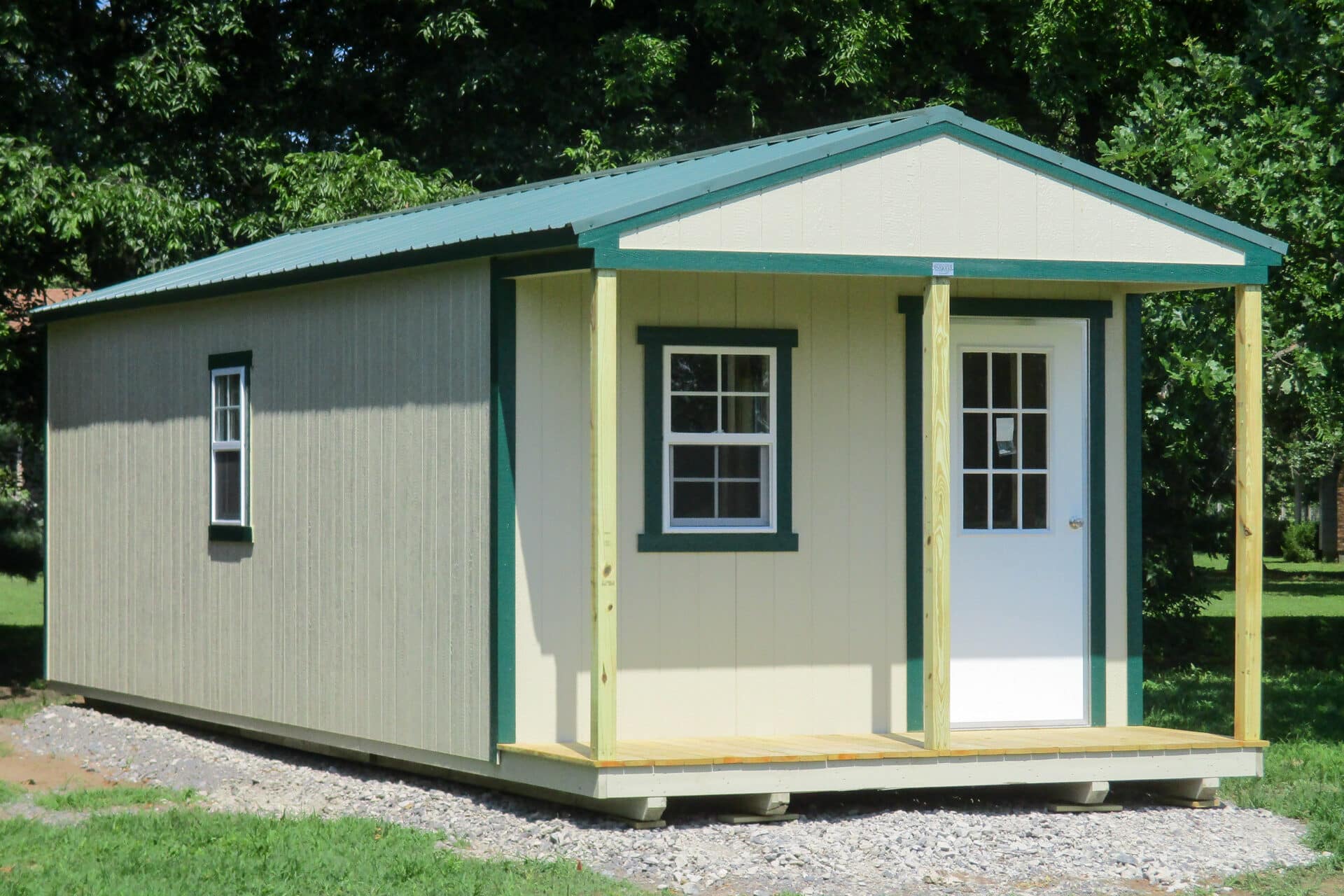 Some exterior options are the Wooden, LP SmartSide, metal, and Vinyl cabin.
A wooden 12×16 cabin will give you the space you need with a bit of light coming through the window. With this cabin, you get two vents and a double door for easy access.
LP SmartSide 12×16 cabin is a very durable cabin that is designed to last you for years. While others replace their cabin, you will enjoy your cabin being there.
Metal 12×16 cabin will provide you better security with reinforced hinges that will help prevent forced entry. The metal cabins are more durable and require less maintenance.
A Vinyl 12×16 cabin is a very durable cabin that will resist any kind of weather. It usually comes with one or two windows for natural ventilation and lighting. This cabin will make you want to spend more time in it than in your house.
Get A Quote for a 12×16 Cabin Now!
We hope you enjoyed reading about the 12×16 cabin. Our prefab cabins are very popular buildings for keeping your belongings safe. Start by requesting a free quote for your storage building. It starts with a click, then you will fill out the form and some contact information, and that's all it takes.
Design Your 12×16 Cabin Using 3D Builder!
Want to add a very personal touch to your 12×16 cabin? Design your own prefab building with our 3D Builder. You are going to love designing your own custom cabin. Now you will be able to customize your cabin by choosing a style, finding the perfect size, and adding doors, windows, and exterior material options, colors, flooring, and interior of your storage building with a few clicks on our 3D Builder.
Find A Dealer For a 12×16 Cabin in Missouri
Find a 12×16 cabin dealer near you by just clicking on the button below and putting in your address information. We can bring your cabin to your door with our trusted dealers.
If you have more questions regarding the prefab 12×16 cabin building or anything else on our website, please feel free to contact us.

FINANCING OPTIONS
Everyone should be able to afford quality; this is why we offer the Rent-to-Own option on our cabins, garages, sheds, animal structures, and greenhouses.