The High Barn Cabin from The Backyard & Beyond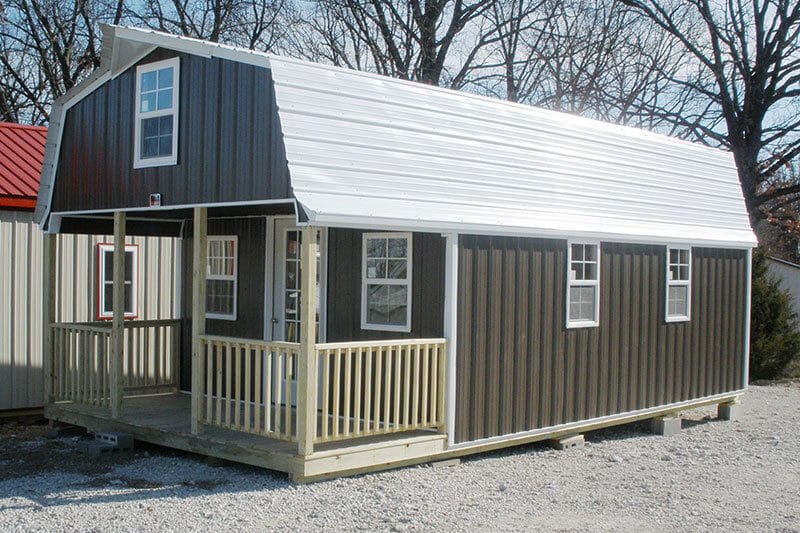 Our High Barn Cabin is perfect for a relatively small weekend getaway place by the lake, a quiet place in the woods, a comfortable guest house, or a deer camp on the "Back 40". Browse through our Cabin Gallery of photos and then come back to this page and fill out a Request Quote for a competitive price.
For those who want to return to the simpler life of our forefathers, this cabin can even be used as a full-time dwelling. It can be finished in a style of your choosing, and its size makes it inexpensive to heat and cool.
Why Should You Choose A High Barn Cabin?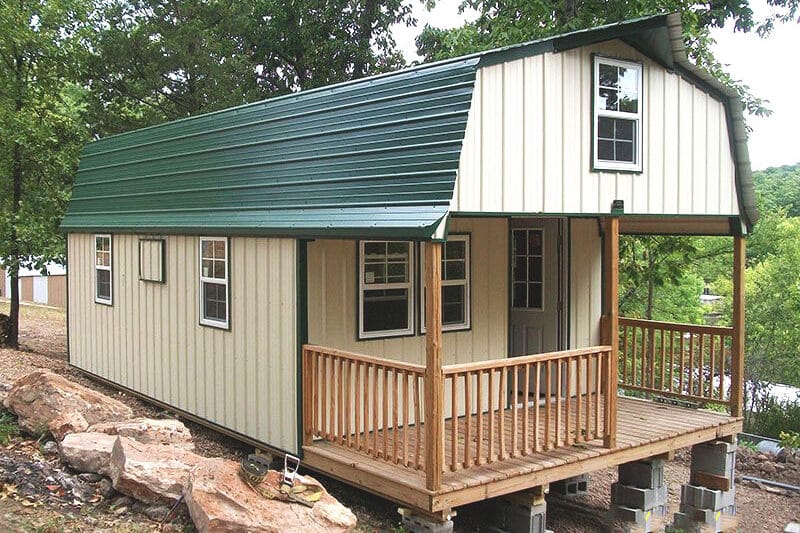 Lofted barn cabins are excellent at saving space. The High Barn design makes the maximum use of the least amount of space out of all the tiny cabins for sale on our lots. What more could you want than a loft area, a sturdy floor, and a beautiful porch?
Let's start with the porches of the cabins. A corner porch, a front porch, or a complete deluxe porch are the three available styles. All of these not only improve the look of your lofted barn cabin but also provide a beautiful place to enjoy the outdoors.
And then there's the outside of the High Barn. With a variety of exterior color options for each, we sell all of our tiny cabins with vinyl, metal, or wood exteriors. Look no farther than a lofted barn cabin if you want to build the tiny home of your dreams or just add a place to chill out in the backyard.
High Barn Cabin Prices
As shown in our catalog, we have high quality lofted cabins ranging in sizes from 8×16 and up to 16×48. Our 8×16 high barn cabins start at $6,850 with the standard features. This price does not include shipping or any additional features. Our 16×48 high barn cabins cost $28,750 with the standard features. Our standard features include 4-24" x36" insulated windows, 1-36" out swing fiberglass door, and 76" side walls, 2-4' lofts, metal buildings 24" stud & rafter spacing, painted buildings 16" stud & rafter spacing, floor joists are 16" on center. You can DIY the interior of your high barn cabin, or let us do it for you. Our all finished buildings include electric, full bath, wood siding on walls, wood siding on the ceiling, and vinyl flooring. If you want to see our finished buildings, you can visit our finished cabins page for more information.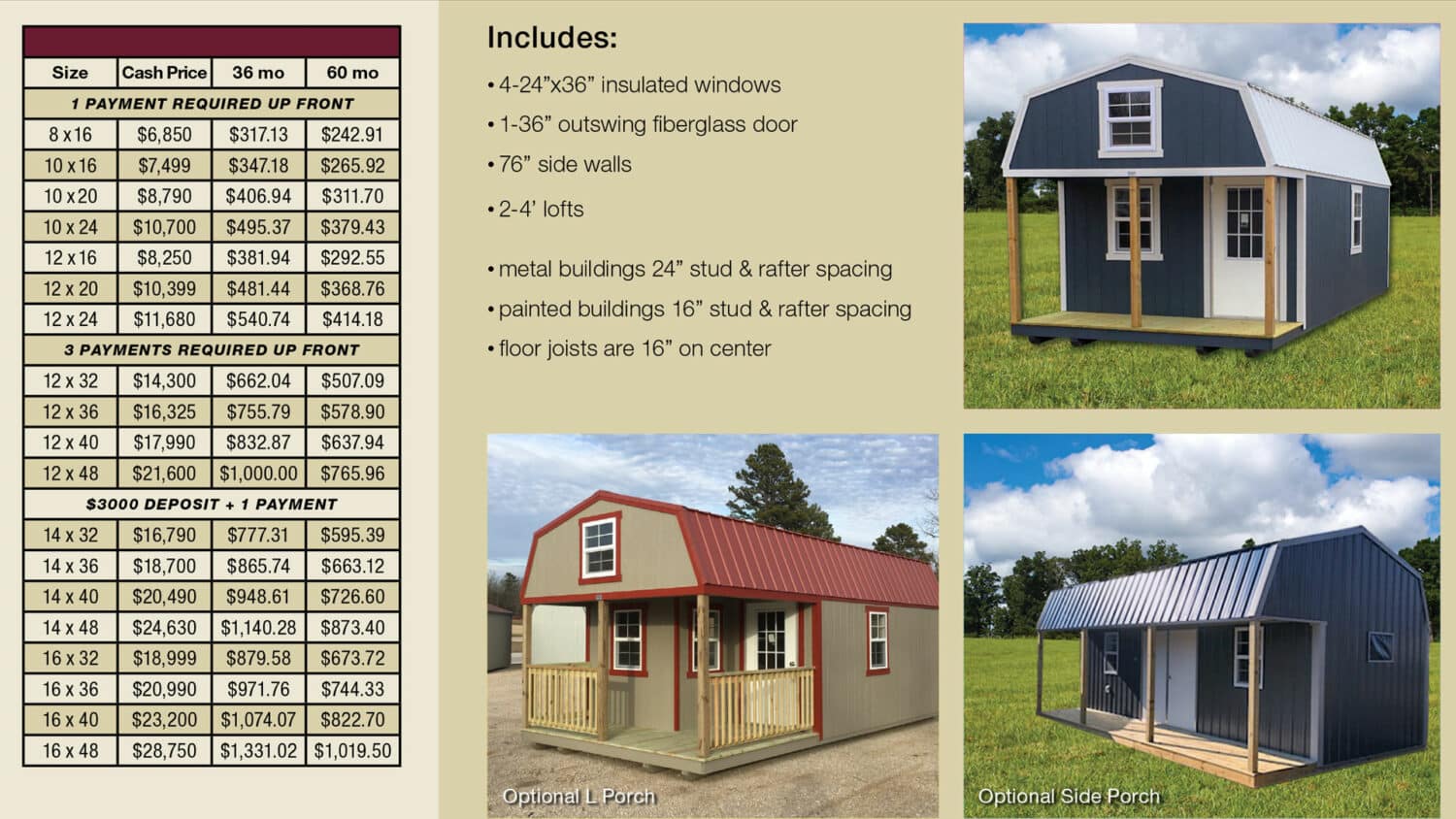 PREPARATION FOR YOUR HIGH BARN CABIN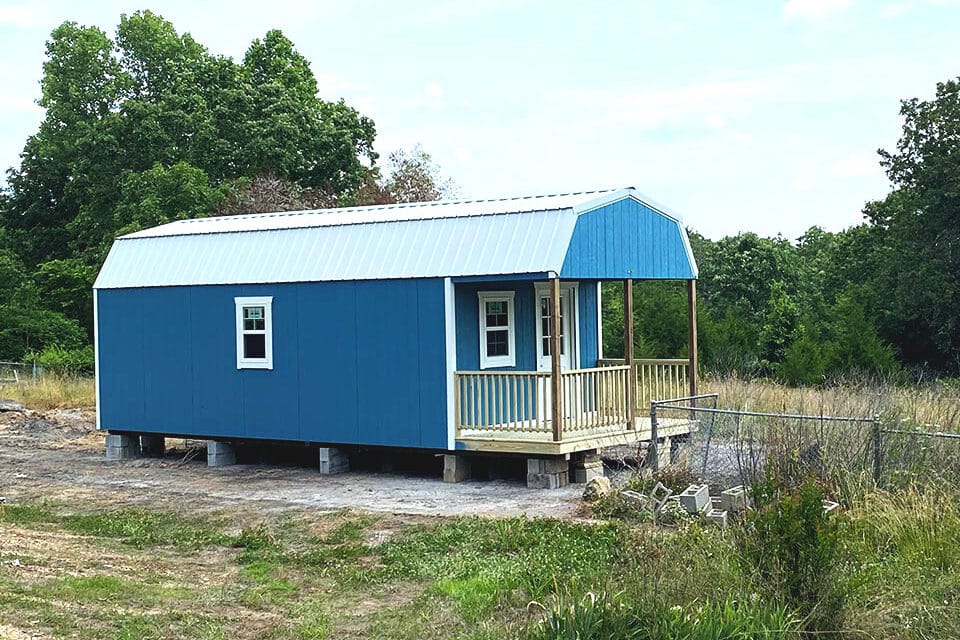 Meanwhile, as your portable building's exterior details come together, let's bring your High Barn Cabin home! Below are the preparation steps.
Choose your Prebuilt building's location and mark it.
Prepare the site by removing any debris, brush, or trees blocking the way of the delivery truck.
Prepare a foundation, such as concrete foundation blocks. * If you prefer, these concrete foundation blocks will be available for direct purchase and installation on the day of delivery.
Sit back and watch your prefab building strategically and professionally placed in its designated location.
Standard Features on the High Barn Lofted Cabin:
Available in 12, 14, or 16 ft. wide
All 12, 14, and 16 ft. wide cabins have (4) 4×4 skids (Ground contact rated by the manufacturer)
Insulated Walls & Roof with Low-E® foil R6 wrap insulation
2×6 MCQ Treated floor joists spaced 16 in. on center
3/4 in. Tongue & Groove Advantech gives you a beautiful, durable overlay for a premium appearance. It has treated wood strand technology for enhanced durability, and the SmartGuard resists fungal decay and termite damage.
Double 2×6 rim board under the front edge of porch for strength
2×4 framed walls with studs spaced 24 in. on center, ready to be finished out yourself or by our professional shop employees.
2×4 siding nailers are notched into the studs for a more professional look and also to give you some more floor space.
12 ft. wide cabins have (5) 2 ft. x 3 ft. vinyl frame Thermo-pane windows
12 ft. wide cabins have (1) 20 in. x 24 in. vinyl frame Thermo-pane windows
14 & 16 ft. wide cabins have (6) 2 ft. x 3 ft. vinyl frame Thermo-pane windows
14 & 16 ft. wide cabins have (2) 20 in. x 24 in. vinyl frame Thermo-pane windows
(1) Residential House door w/window. Can be placed in the location of your choice
Easily adaptable for many configurations and uses (window placement can be adjusted to suit needs)
12 ft. wide cabins have (1) 8 ft. sleeping loft with (1) ladder – unless ordered otherwise
14 & 16 ft. wide cabins have (2) 8 ft. sleeping lofts with (2) ladders
6 ft. porch with handrails (standard)
Full 8 ft. tall walls
40-year paint warranty on the metal. 23 colors to choose from (your choice, no extra charge)
Rodent proof trim along the bottom edge of the metal
Metal panels are screwed on with color-matched screws
Options:
Wanes coating on all sides of the cabin or just in front of the porch
You can also add a full length, covered porch with handrails on the side of the cabin
Upgraded 2 ft. wide x 3 ft. tall or larger Thermo-pane windows (As many as you want)
High Barn Cabins Gallery: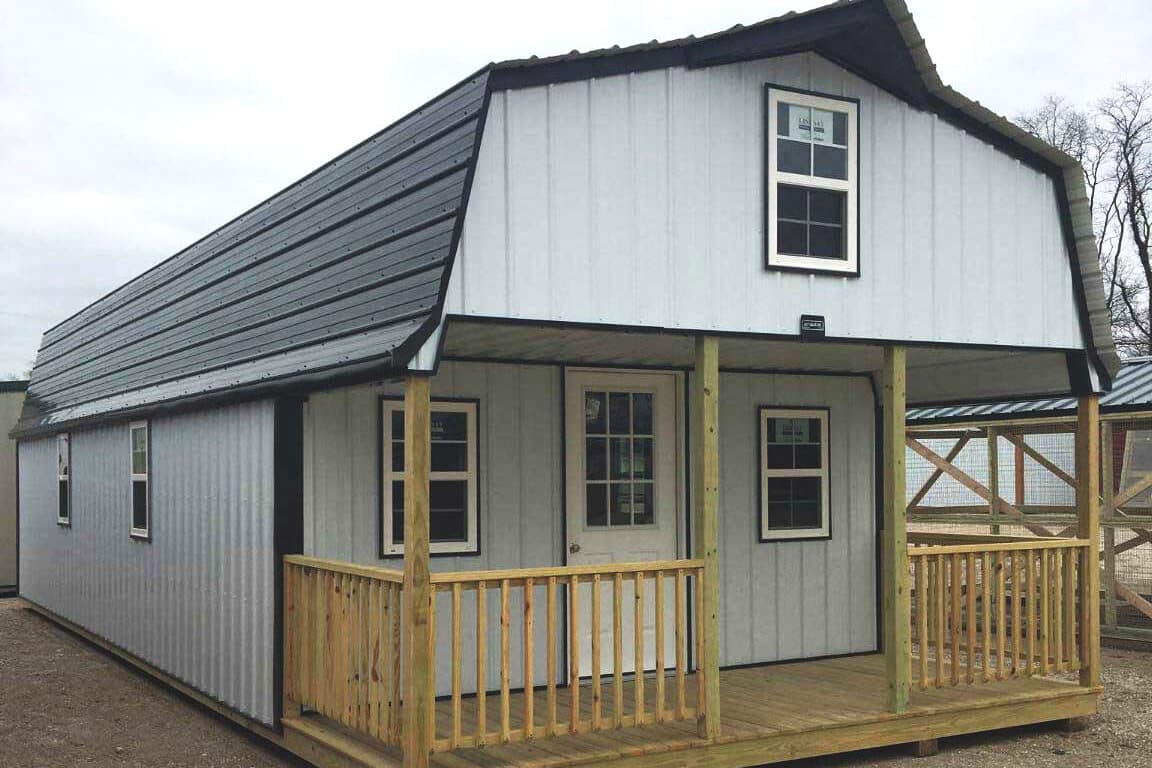 GET A QUOTE!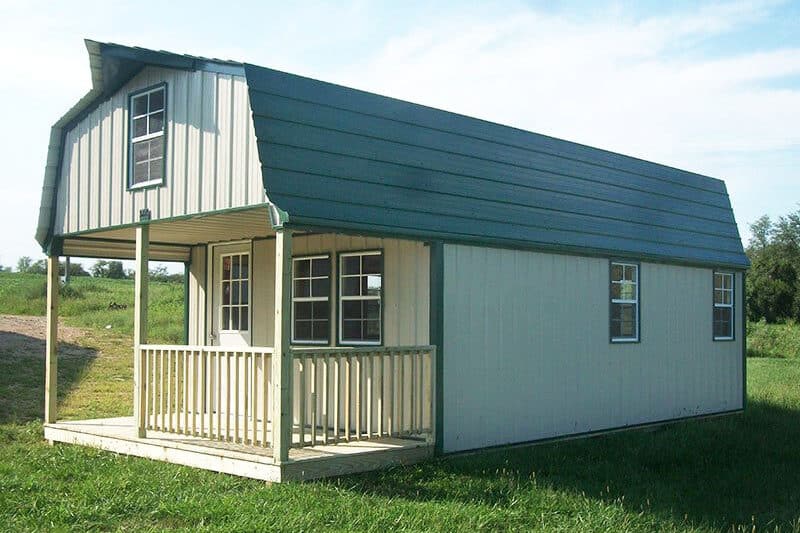 We hope you enjoyed reading about The High Barn Cabin. Our high barn cabin with extra overhead space is a very popular building for keeping your stuff safe. Start by requesting a free quote for your high barn cabin. It starts with a click, then you will fill out the form and some contact information, and that's all it takes.

FINANCING OPTIONS
Everyone should be able to afford quality; this is why we offer the Rent-to-Own option on our cabins, garages, sheds, animal structures, and greenhouses.