Metal Buildings
Missouri's Metal Carports, Garages, Barns, and RV Covers
Whether you are buying a metal carport, or a metal garage we can help you find what you need. Metal buildings are versatile and durable enough to meet a variety of purposes. You want to work with folks that are both knowledgeable and professional. Backyard and Beyond are committed to helping you find the right metal building.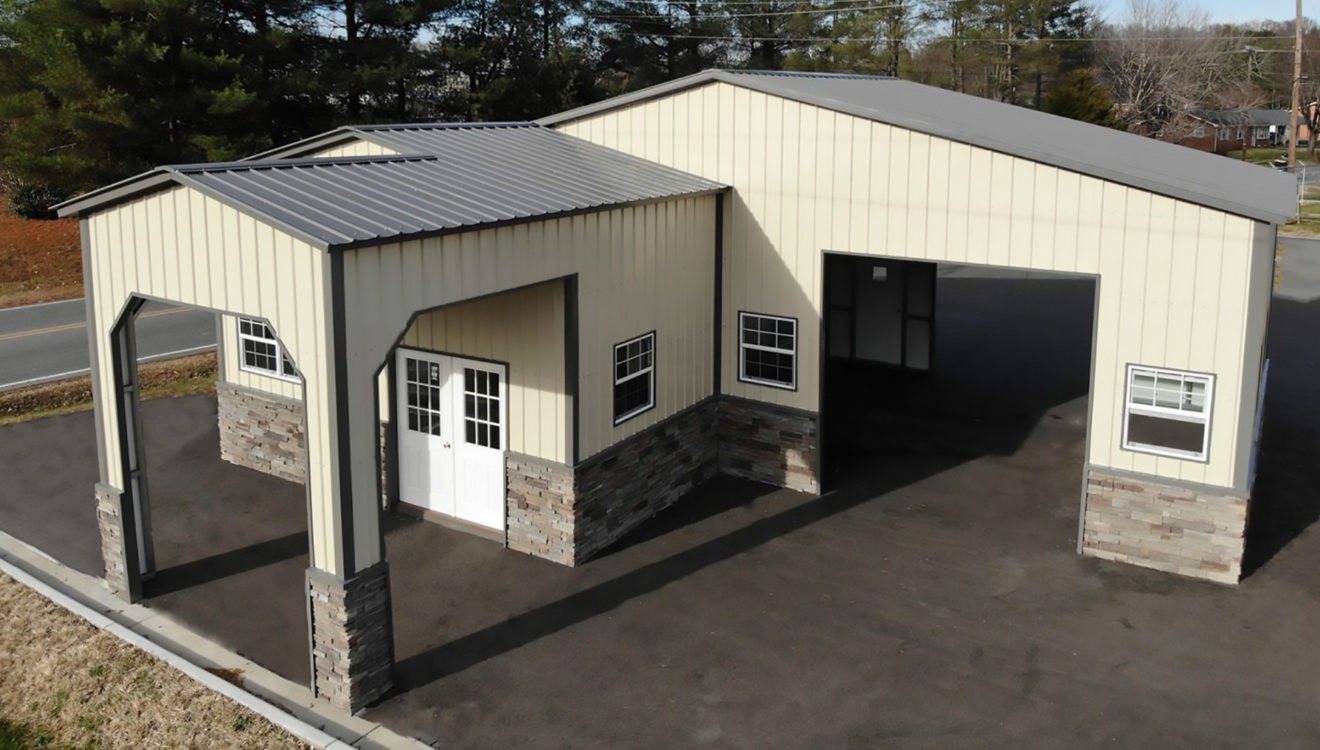 Storage Shed Models
We live in a fast-paced world, so we understand that you probably appreciate a quick turnaround. That is one of the benefits of metal buildings. It takes less time from the order to completed installation.
The weather can damage cars with strong winds, hail, and extreme heat. This has made metal carports a popular choice for protecting their vehicles.
Regular Style
The Regular Roof Style Metal Carport is the most economical model. The roof curves around the sidewalls.
Boxed Eave Style
The Boxed Eave Style Metal Carports has a gable roof style with eaves on the sides.
Vertical Roof Style
The Vertical Roof Style Metal Carports are similar to the Boxed Eave Style, but the panels are laid so that the rain runs off the sides.
Metal garages don't have fungal decay you see in wooden structures. They are much faster to construct and very strong. Metal Garages requires less maintenance than wood structures.
Regular Style Metal Garages
This the most economical metal garage option. This includes a roof style that wraps around the eaves or sidewalls. The panels are laid the length of the building.
Boxed Eave Style Metal Garages
This metal garage has eaves. The panels run along the length of the metal building from end to end.
Vertical Roof Style Metal Garages
This model has the strongest roof which panels run from eaves to peak.
You won't have the same maintenance requirements with a metal barn. They can be configured in many different ways to fit whatever the need might be. They are stronger than wooden structures.
Metal Classic Barns
The Metal Classic Barns roof is the original roof style. The panels wrap around the side walls. This is the most economical style.
Metal Eagle Barns
This model's panels are parallel to the length of the structure. The roof also has eaves.
Metal Horse Barns
The Metal Horse Barn offers many configurations possibilities. We may call it a barn, but it can be used for many purposes.
RVs are big investments, and they deserve protection. If they are under trees, leaves accumulate on the roof of RV creating a hassle to clean. You can't leave the leaves up there; they eventually will cause problems no RVer wants.
That why folks park them under metal RV covers. They provide protection and extend the life of your RV.
Metal Buildings' Standard Features
Below are some of the standard features in our metal buildings or metal carports.
3 roof styles
14 colors
29-gauge steel roofs
90-day workmanship warranty
Garage doors are made from 26-gauge steel
Wainscoting options
Garage entries 45 trim kit (Dutch Openings)
Eagle Carports
We are a proud dealer for Eagle Carports in Ellsinore, MO. When you meet with one of the knowledgeable staff, we begin by listening to what you are looking for. We will answer any questions you have. We will guide you through the options, and help you find exactly what you are looking for.
What is the process?
One of our experienced and caring staff here at Backyard and Beyond will sit down and listen to what you need. We will create the design for your metal building, and then send everything over to Eagle Carport. Eagle Carport will then fabricate all the components of your structure. Then a time will be scheduled for a crew to come out and construct the metal building onsite. From start to finish the whole experience is designed to be easy and an enjoyable process.
LOT LOCATIONS
Our goal is the best quality at the very best price. Come visit any of our locations to feel the Backyard & Beyond difference.

FINANCING OPTIONS
Everyone should be able to afford quality; this is why we offer the Rent-to-Own option on our cabins, garages, and sheds.